'Domina' on Sky Atlantic and EPIX — release date, cast interviews, trailer, plot and episode guide for the Ancient Rome drama
Domina follows the power trip of Livia Drusilla in Ancient Rome.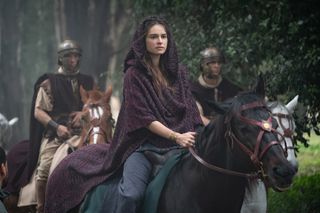 (Image credit: Sky)
Domina takes us back to some very dangerous times in Ancient Rome, but we're used to TV dramas about the Roman era being all about the male soldiers, emperors and generals. Now new historical drama series Domina currently on Sky Atlantic adn Sky Box Sets, and coming to EPIX, shows a different side to Ancient Rome by portraying the classical civilisation from the perspective of its important women.
From the team behind Arctic thriller Fortitude, the eight-part family saga Domina follows the life and extraordinary rise of Livia Drusilla, who became the wife of emperor Gauis (aka Caesar Augustus) and the mother of the eventual emperor Tiberius. She overcame adversity to become one of the ancient world's most powerful women. Filmed in Rome's historic Cinecitta Studios and grounded in historical accuracy, the Domina cast includes Kasia Smutniak, Isabella Rossellini, Matthew McNulty, Ben Batt and Game of Thrones star Liam Cunningham (see below for our guide to their characters).
If you're a fan of Game of Thrones for its sex, murders, betrayals and political intrigue then Domina is definitely for you! So here's our complete guide to the series...
Domina release date...
Domina launched on Sky Atlantic and streaming service NOW in the UK on Friday May 14 May at 9pm. The box-setted eight-part series has aired exclusively in all Sky territories, in Italy, UK, Ireland, Germany and Spain. NBCUniversal looks after distribution for the rest of the world including the USA where Domina will be released on EPIX on June 6.
* See our news here on a second season of Domina.
What Domina is about...
Domina follows Livia Drusilla, a naïve young girl, whose world crumbles in the wake of Julius Caesar's assassination and a devastating civil war. But using plenty of intrigue she eventually becomes Rome's empress by conniving to marry Gauis, (who became emperor Augustus). She then ends up navigating her way through a brutal male-dominated society by means of conspiracy, seduction and murder to become Rome's most powerful and influential empress and to secure power for her son, Tiberius.
Domina covers the same time period as the classic 1976 series I, Claudius, (opens in new tab) which starred Derek Jacobi in the title role of the Roman emperor Claudius, alongside John Hurt (Caligula) and Patrick Stewart (Sejanus). It began with Augustus (Brian Blessed) contemplating his heir and successor, with Livia (Sian Phillips) assassinating all rivals to elevate her own son Tiberius to the position.
Kasia Smutniak on her role as Livia Drusilla in Domina...
Kasia Smutniak takes the lead in Domina as Livia Drusilla (see main picture). She found fame in the film From Paris With Love opposite John Travolta and Jonathan Rhys Meyers and recently starred as Lily Dolittle in the 2020 film Dolittle.
"I'm thrilled to be playing such a complex character as Livia Drusilla in Domina," says Kasia. "As a frontrunner in defending women's rights, she was a tough woman who was both feared and cherished and was strong enough to seal the fate of the Roman Empire.
"Domina tells us about women's lives in ancient Rome from the female point of view and in so doing explores the era that set out the ground map for future Western civilization. Women were slaves to their own destiny. In order to tell the story, we've had to draw on our own experiences, on our inner lives.
"Livia is a character who makes decisions for herself. That's what made her so appealing to me. Despite the times she lived in she was the one calling the shots. She acts with real cunning and is very smart at a very tough period in history. This was an extremely cruel and tough era — a time when little value was attached to human lives. Women's lives were certainly worth even less than men's lives back then. Playing such a great woman – so full of nuance, strong and historically relevant – has been a privilege."
Nadia Parkes plays the young Livia in Domina, before Kasia takes over the role from the third episode onwards.
Matthew McNulty on playing Gauis in Domina...
Misfits and The Mill star Matthew McNulty stars as Livia's second husband Gaius, who eventually becomes the future emperor Caesar Augustus...
While we interviewed Matthew for his guest role in Doctor Who in 2019, we also spoke to him about Domina while he was filming in Italy at the time. Here's what Matthew told us about his role:
"Yes I'm playing Caesar Augustus who was the first emperor of Rome and probably one of the most successful Roman emperors, but this story is told through the eyes of his wife Livia Drusilla. It's all quite fascinating. Livia Drusilla was a powerful woman who had statues of her everywhere and her head on coins.
"It was great doing scenes in the Roman senate as Augustus as he was well known for his oratory. I properly loved it and the actor really came out in me! I was milking every moment! There were loads of extras then and I felt very commanding strutting around in a toga!"
Matthew also recently told us much more : "Gaius is power hungry from an early age and he's always had to prove himself. He wants to rise as high as he can and the highest you can go is being a God. By the time I start playing him he definitely has a God complex!
"He's also intelligent, ruthless and a great orator, but gradually he goes from being a ruthless gangster to a statesman and a diplomat."
Isabella Rossellini talks about her role as Balbina in Domina...
Hollywood icon Isabella Rossellini is the daughter of legendary actress Ingrid Bergman and director Roberto Rossellini, and who starred in hit movies such as Immortal Beloved, Blue Velvet and Death Becomes Her. In Domina, Isabella plays Balbina, a brothel owner who becomes one of Livia's early enemies.
Isabella says: "I thought Domina was very, very cleverly written. These women were mean, and rebellious, and got their ways even if they didn't have the many rights. They still were able to seize the power, and I was attracted to it. First of all, I've seen a lot of films about Rome and Roman times, but seldom have I seen it from a woman's point of view with a woman protagonist. That appealed it to me because of course I'm interested in women's history and how we acquired all our rights. So this was an opportunity to look back at history and learn about it.
"The film was shot in Rome, where I grew up because my father was a director. So filming in Rome was was going back to me was a little bit going back to my roots. Many people there in Rome knew my father, or their parents or their grandfather had worked with my father or were friends with my father. So there was a feeling of continuity and tme, that was very touching."
Isabella also told us about her legendary mother, Ingrid Bergman, in relation to strong women back in Hollywood's heyday. "My mother was for sure a woman that I think was a precursor of women's rights. She really was incredibly independent. But I don't think my mother was a much more independent than the regular Hollywood actress at the time. And, and this is one of the reason why I'm here because she left Hollywood to work in very experimental films, like with my father, then fell in love and had babies, including me. So Mama was a real independent mind."
Domina cast — Liam Cunningham as Livius...
Liam Cunningham plays Livia's father, Livius, who fights with Julius Caesar's assassins, Brutus and Cassius, as he is a huge advocate of the Republic, which means rules by democracy in the Roman senate rather than through the dictatorship of kings and emperors (such as Gauis). He is a big influence on Livia as she was brought up mostly by him after her mother died during childbirth.
Liam is known best as the 'Onion Knight' Davos Seaworth in Game of Thrones. The Irish actor has also starred in TV dramas such as Outcasts, The Museketeers and he is the voice of Pupa in Solar Opposites. In movies, Liams starred in The Wind That Shakes The Barley, War Horse and Clash Of The Titans.
Other Domina cast — Christine Bottomley, Ben Batt, Claire Forlani, Ewan Horrocks and more....
The younger Gaius in Domina is played by Tom Glynn-Carney (see pictured below), best known for his role in the 2017 war film Dunkirk. He played Peter, the son of small boat's captain (Mark Rylance) as they sailed across the English Channel to rescue the stranded British soldiers. Tom also played Lance Corporal Tony Armstrong in BBC1 drama The Last Post.
Ben Batt (The English Game) plays Marcus Agrippa, who is Gaius' ally since childhood. Agrippa becomes a consul and plays a crucial role in his friend becoming emperor. Oliver Huntingdon (see below) plays the Younger Agrippa. Oliver had previously starred in The End of the F***ing World.
Christine Bottomley, who also starred in The End of the F***ing World, plays Gauis' ex wife Scribonia. She is the mother of his only natural child Julia (Liah O'Prey) and resents Livia for stealing her husband. The younger Scribonia is played by Bailey Spalding.
Enzo Cilenti (Game of Thrones) is Tiberius Claudius Nero, Livia's first husband who is the father of her two sons, Tiberius and Drusus, and is furious when she leaves him.
Fans of Netflix fantasy drama The Witcher should look out for Colette Tchantcho as Livia's childhood slave Antigone, who Livius frees when his daughter marries Tiberius Claudius Nero.
Drusus, who is the playboy son of Livia, is played by Ewan Horrocks. His older brother, the terrapin-obsessed Tiberius (Alex Rider star Earl Cave), is Livia's eldest son who is destined to succeed Gauis as emperor.
Claire Forlani (Hawaii Five-O) plays Claudia Octavia, who is Gaius' sister. She is mother to Marcellus (Finn Bennett) and is desperate for him to succeed his uncle as emperor rather than any of Livia's sons (Tiberius and Drusus). Marcellus is bisexual and falls for his slave Aprio (Pedro Leandro).
The trailer for Domina...
Yes there is a trailer for Domina and it looks amazing. See Sky Atlantic's first look Domina trailer right here...
Our Domina episode guide (contains spoilers)...
Here's our brief guide to all eight episodes of Domina below. If you haven't yet watched and want to avoid a few spoilers, then please do skip past (or breeze through quickly!)...
Domina 1.01 (opener): Fall
Livia Drusilla lives on a wealthy estate with her senator father Livius who has brought her up since her mother died in childbirth. He affectionately calls her 'Little Bear' and soon marries her off to an ally, Tiberius Claudius Nero. As the Republic in Rome reaches the brink of collapse, Livia's father and husband are defeated in the Civil War and forced into exile. Suddenly Livia loses all the comforts and honours she has been accustomed to, and she barely escapes Rome with her life. She commits her first murder when she kills the attacker of her friend and former slave Antigone. She then runs off fearing Antigone is dead.
Domina 1.02: Rise
Livia can return to her home in Rome in safety when an amnesty is declared. On arriving back in the capital pregnant Livia tries to rebuild her family fortune. She is delighted to discover her friend Antigone is actually alive but far from well. She's been sold into slavery again to brothel madam Balbina (look out for Isabella Rossellini playing her brilliantly). Livia hopes to enact a rescue plan, but this involves getting favours from Rome's most Gauis. As Livia and Gauis flirt and get close, Livia succeeds in freeing Antigone from the clutches of Balbina! Antigone later gets a brutal revenge on Balbina! Livia also gets her way by persuading Gauis to divorce Scribonia and marry her, but in doing so makes an enemy for life...
Domina 1.03: Family
It's 12 years later, and the actors playing the main characters change, with Kasia Smutniak now playing Livia Drusilla and Matthew McNulty playing Rome's dictator Gauis. This is also what will become known as the 'terrapin' episode! Livia's oddball son Tiberius keeps these reptiles as pets while the other children of the Roman royal family mock and bully him, including Marcellus and Julia, eventually stealing and killing his pet. This has a huge psychological impact on young Tiberius, and not for the better as he begins his dark obsessions, not only with terrapins but with sex and love! This is also a big episode for intrigue in the Roman senate, showing how Gauis acquires his dictatorial powers.
Domina 1.04: Secrets
Livia's marriage to Gaius looks like could be in trouble when she learns that she can't bear him any children. We see Scribonia (Gauis' ex wife) secretly delighted at the news, as she has been praying to the gods for a miscarriage. Both she and Livia know how important it is for any emperor to have an heir! At the moment Marcellus would be in line as he's Gauis' nephew, but he's young and impetuous, and he seems to be secretly interested in men, particularly a slave he brings back from Spain.
Domina 1.05: Plague
Some sort of plague has hit Rome and is killing many of its citizens. Gaius becomes seriously ill which causes a huge political crisis and has Livia worried as she knows her position without him is very weak if not dangerous. When it seems Gauis might not live, there is the problem of succession. His great friend Agrippa is best placed in Livia's mind yet family ties run deep and Gauis previously expressed his favour to his playboy (and gay) nephew Marcellus who Livia thinks is totally unsuitable. She also thinks her former slave friend Antigone can help alleviate Gauis symptoms. The problem is getting her close enough to enact her healing powers on him. Yet Livia does indeed find a way to solve everything, though both cunning and luck!
Domina 1.06: Nightshade
Antigone and Livia head to the woods and pick a whole bunch of deadly nightshade. From her spies, Livia has discovered that Marcellus plans to kill her sons then exile her when he assumes Gaius' position. So the wily women plot to poison Marcellus before this can happen! The only trouble is the family is sent on a vacation to the Naples Bay area and they can't trust any slaves to place the poison in Marcellus' food. There is sex galore in this episode, as the holiday break seems to have made everyone quite frisky! Livia and Antigone soon discover Marcellus is having intimate relations with his Spanish slave Aprio and they use a spot of blackmail to get this man who Marcellus trusts to administer the poison. The plan, however, almost backfires spectacularly!
Domina 1.07: Treason
It's back to the senate intrigues in this episode when the last Republican sympathizers plot to embarrass Gauis during the treason trial of one senator, and rally support for the Republic. It takes Livia and some secret meetings by cover of night to work out a way to stop power from being taken away from Gauis. There's both bloodshed and betrayal involved!
Domina 1.08 (series finale): Happiness
Livia becomes even closer to her sons Tiberius and Drusus about the mission (power trip) she's on. But she feels threatened when it seems the truth about what really happened to Marcellus could come out. When the skeleton of the Spanish slave Aprio is discovered, wearing Marcellus's gold ring (once given as a gift to his lover!). Marcellus mother Octavia and Scribonia become highly suspicious that foul play was involved and go on the warpath, wanting Livia, Antigone and Tycho brought to justice, but who will Gauis believe, his wife or his sister?
Behind the scenes information on Domina...
Domina's lead director is the acclaimed Australian filmmaker Claire McCarthy (Ophelia, The Luminaries) while the miniseries was created and written by Simon Burke (Zen, Fortitude).
The mostly Italian crew includes the country's top professionals. Costumes will be designed by the Academy Award winning Gabriella Pescucci (The Age Of Innocence, Once Upon A Time in America), production design by Luca Tranchino (Prison Break), make up by Katia Sisto (Penny Dreadful) and hair design by Claudia Catini (Trust).
Get the latest updates, reviews and unmissable series to watch and more!
TV Content Director on TV Times, What's On TV and TV & Satellite Week
I'm a huge fan of television so I really have found the perfect job, as I've been writing about TV shows, films and interviewing major television, film and sports stars for over 25 years. I'm currently TV Content Director on What's On TV, TV Times, TV and Satellite Week magazines plus Whattowatch.com. I previously worked on Woman and Woman's Own in the 1990s. Outside of work I swim every morning, support Charlton Athletic football club and get nostalgic about TV shows Cagney & Lacey, I Claudius, Dallas and Tenko. I'm totally on top of everything good coming up too.
Thank you for signing up to Whattowatch. You will receive a verification email shortly.
There was a problem. Please refresh the page and try again.