KSI: In Real Life — air date, interview, trailer and all about the YouTuber's candid documentary film
KSI: In Real Life on Prime Video follows the YouTuber, musician and boxer JJ Olatunji, aka KSI, over a year of his life.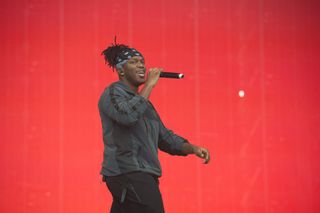 (Image credit: Prime Video)
KSI: In Real Life is a candid documentary film on Prime Video that follows KSI, aka JJ Olatunji, over the course of 12 months, as he prepares for the biggest year of his career so far.
Produced by Louis Theroux's company Mindhouse, the feature-length documentary goes behind the scenes of JJ's life, as he prepares to take to the stage at Leeds Festival, records his third album and gets ready for a massive solo tour.
But the show also gives an intimate portrait of his fractured relationship with his family, his emotional break-up with his girlfriend and the move into his 10 million pound London home.
Here's everything you need to know about the Prime Video documentary KSI: In Real Life…
KSI: In Real Life release date
KSI: In Real Life will launch worldwide on Amazon Prime Video on Thursday January 26, 2023.
Is there a trailer for KSI: In Real Life?
Yes Amazon Prime Video has released a trailer for KSI: In Real Life which shows what's going to be covered by this fascinating documentary.
Take a look below...
Interview: JJ on what happens in KSI: In Real Life
Here JJ, 29, reveals what we can expect from his fly-on-the-wall Prime Video documentary KSI: In Real Life.
The film charts JJ's rise to fame from a teenager posting online YouTube videos from his home in Watford to global superstar with millions of followers, plus a successful boxing and music career. But it also finds him at a crossroads in life and shows him struggling with his identity while trying to mend the rift with his parents and his brother, Deji.
"I felt very lost at the start of this documentary and I definitely needed to find myself, I needed to understand myself more," says JJ.
"My situation with my family wasn't great, especially my parents, so I knew I had to fix that. I wasn't in the best place. I thought 'I've got all this success, but what does that mean if I'm not happy within?' But making the documentary really helped me open up, although it's quite crazy that the cameras managed to capture that whole situation! But I'm in a much better place now, and therapy has helped me understand who I am instead of trying to be something I'm not. Hopefully this film will show I'm just human."
KSI: In Real Life also sees the star open up about his fear of failure, while we get to see the pressure cooker situation of relentless online trolling. There are moments of huge highs, particularly when he's meeting his fans or on stage, but also crushing lows as he deals with the end of his three-year relationship.
However, by the end of the film, he's seen repairing his relationship with his family, and a touching moment when his dad, Jide, visits him in his new home for the first time.
"My parents have seen the documentary and it was heartbreaking for them because obviously, I get upset in it," he says.
"But they're just happy now that everything is just so much better than it was before. If I'm honest, at the beginning I hated having the cameras following me, I found it quite intrusive because I'm quite introverted and I love my alone time. It was also weird not being in control. But I didn't want the documentary to be a fluff piece, I didn't want to just be like, oh look how great I am. It's going to be interesting what audiences think of it but maybe it will help in terms of relatability. For me success isn't a destination. I see it as a journey and I'm still on that journey and I'm still figuring out more about myself and what more I can do."
* More guides to top Prime Video shows and documentaries are below...
Get the latest updates, reviews and unmissable series to watch and more!
Hannah has been writing about TV for national newspapers and magazines ever since the 1990s when she covered the soaps for Woman magazine — and she still prides herself on rarely having missed an episode of EastEnders. Since then she's written for various publications, including What To Watch, TV Times, What's On TV, TV & Satellite Week, Woman & Home, Psychologies and Good Housekeeping.
Apart from EastEnders, her other favorite shows include Succession, Unforgotten, Line of Duty, Motherland and anything by Russell T Davies. When Hannah isn't watching or writing about telly, you're likely to find her enjoying London's latest theatre shows, taking her campervan on a wet UK holiday or embarrassing her teenage kids.
Thank you for signing up to Whattowatch. You will receive a verification email shortly.
There was a problem. Please refresh the page and try again.