'Lie With Me' — release date, cast, plot and all you need to know about the Charlie Brooks drama
Here's everything you need to know about Lie With Me, featuring the former EastEnders favourite.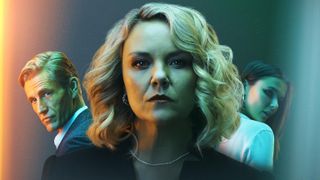 (Image credit: Channel 5)
Lie With Me is a new drama miniseries that's on Channel 5 right now and will be coming to Network 10 in Australia this year!
This dark, new thriller sees legendary EastEnders star Charlie Brooks taking centre stage as a married woman gambling on saving her marriage by moving halfway around the world to Australia with her family. When a young and attractive live-in nanny comes to work with the successful Fallmont family, the tension soon starts building!
Charlie described Lie With Me as "a sexy thriller and a story of betrayal, with lots of twists and turns", so it's sure to keep everyone gripped when the show airs very soon!
Here's everything you need to know about Lie With Me!
Lie With Me release date
Lie With Me started airing on Channel 5 on Monday, 12th July Episodes will air nightly, and the show will conclude on Thursday 15th July.
The series will also be available to stream on-demand immediately after it airs on My5.
Lie With Me will be shown on Network 10 in Australia, although the air date is yet to be confirmed.
How many episodes are there?
There are four, 60-minute episodes of Lie With Me on the way!
Lie With Me continues tonight at 9pm on @channel5_tv 👀#LieWithMe pic.twitter.com/bm59KmLRKWJuly 13, 2021
Lie With Me cast
Charlie Brooks
Former EastEnders star Charlie Brooks leads the show as Anna Fallmont. Charlie is best known for playing Janine Butcher in the British soap, a role she's played on and off since 1999. She was also the winner of the 12th season of I'm A Celebrity… Get Me Out of Here!
Talking about her character, Charlie Brooks said Anna has "lost herself a little within her marriage. She has compromised who she is for her family and that comes with quite big consequences. She has also experienced heavy gaslighting within the marriage, but she's a survivor.
"Anna hasn't got any friends, so it's a relief for her to finally have somebody to talk to and have a friendship with.
"Without giving too much away, as the story develops, that friendship deepens and Anna recognises how controlling her husband is, not just with her. So she gives Becky a real opportunity - a get-out-of-jail card, basically - and really hopes Becky will take her up on that. However, Becky decides not to… so the consequences are, what they are."
Charlie continued: "I thought Lie With Me sounded really exciting – it's always interesting to play a woman on the edge and we were shooting in Australia, so the job was a no-brainer for me!"
Charlie's husband, Jake, will be played by renowned Australian actor, Brett Tucker. He plays Daniel Fitzgerald in Australian soap Neighbours, and was a series regular in the Grey's Anatomy spin-off, Station 19.
Talking about the show, Brett said: "As an actor, it was a really exciting project to work on, knowing there's going to be so many twists and turns and lots of surprises.
"It was an absolute ball, a really great coming together of all of the elements – cast members, director, script, locations. It was a blast and I think it will be for the audiences as well."
Australian actresses Phoebe Roberts (Utopia, Nowhere Boys) plays the Fallmont's live-in nanny, Becky, and Caroline Gillmer (Neighbours) plays Cynthia Fallmont, Anna's mother-in-law.
Lie With Me plot
Lie With Me is a chilling tale that follows Anna and Jake Fallmont, a married couple who have made the decision to move from London all the way to Australia. They're heading out to start afresh together after their happy marriage was rocked by Jake's affair.
Although things start out promising for them, it's clear that there are still issues with their relationship. Deadly consequences arise for the couple after they hire Becky, a young local nanny (Phoebe Roberts) who definitely isn't quite as innocent as she first appears... and the whole situation will eventually lead to murder!
What happened in Lie With Me Episode 1?
Spoilers ahead for episode one of Lie With Me!
A body is sealed in a bag, and we see a crying woman being interviewed by the police before the titles appear. The show then jump five weeks in the past to the Fallmont household, where Anna suspects her husband may be cheating again just two months after they made a fresh start together! Jake has secured a job for her at a design firm, so they hire Becky to be their new live-in nanny to their two young children.
Becky gets on really well with the kids very quickly, but overhears Jake and Anna fighting and is nearly hit by a pill bottle that crashes through a window during the argument. Later, Becky finds Anna crying one evening after overhearing another fight. Anna opens up to Becky, revealing her suspicions that Jake is cheating on her with Caroline, his personal assistant.
Becky advises Anna to double down on her suspicions, so Anna hires a taxi driver to follow her husband on his lunch breaks. She spots them together several times, and eventually works up the courage to confront Caroline. She denies anything has happened just before Jake finds the two women outside of his office.
Back home, Jake maintains that he has never cheated on her, and Anna blames her paranoia on her decision to stop taking her medication, and the two appear to make up after Anna begs to be forgiven.
Jake was clearly lying, though, as he meets Becky in the wine cellar at the end of the episode, where we learn that they've been having an affair all along! Jake wants to seize full custody of his kids and start a new life with Becky, who was the woman he had cheated on Anna with in London!
What happened in Lie With Me Episode 2?
Spoilers for Lie With Me episode 2!
Anna recommits to Jake, while Jake and Becky continue their affair under her nose and work to secure custody of their children. Jake stays home from work and has adventurous sex with Becky, which almost leads to the death of Oliver, his baby son! Becky accidentally left Anna's pull-along toy duck in his cot, and he gets the cord wrapped around his throat whilst Becky and Jake are away.
Luckily, Becky discovers Oliver just in time, and they rush him to hospital. Anna receives a call and head to the hospital, where she questions why Becky wasn't being more careful at home and starts to demand that Jake gets rid of her. When Jake's mother visits the house to ask what happened, Jake blames the incident on Anna being careless, reaffirming his mother's opinion that she's a danger to his children.
Later, Jake throws Anna's own past parenting mistakes back at her in order to guilt her into keeping Becky on, and Becky overhears their fighting and what sounds like physical abuse one evening. When Becky finds Anna in tears again, Anna reveals why Jake's mother thinks she's a danger to their children, and forgives Becky for her mistake. Becky is moved by Anna's vulnerability and starts to question what Jake is really like.
Jake sends Anna and Becky off to the family beach house to bond, and we see him tampering with Anna's medication. Anna begins to notice individual clues that point to Jake and Becky having an affair, and she gets the taxi driver to rush her home, where she finally catches Jake and Becky in the act.
What happened in Lie With Me Episode 3?
Spoilers for Lie With Me episode 3!
Anna begins to enact a plan to get her revenge on Jake and Becky. She visits a lawyer to see how she could retain full custody of her children from Jake, and shows Becky a bruise on her shoulder to destabilise the couple and win Becky's trust.
Becky is shocked by this revelation, and eventually confronts Jake about it. He is horrified that Anna would accuse him of violence, and he convinces her Anna is self-harming to undermine him. At the same time, Anna begins to convince Becky that Jake is dangerous, and encourages her to quit if she wants to.
During another sexual encounter, Jake pressures Becky into taking drugs. Becky takes them, but quickly begs Jake to stop afterwards. Anna arrives home and almost interrupts them. Liam, the gardener, figures out what's going on between her and Jake, but helps Becky to pick up the kids as the drugs haven't worn off.
Anna blindsides Becky with the news that she's set up a safehouse for her and the children, and invites Becky to help move in and to set it up. As Anna expects, Becky reveals Anna's plan to Jake. He encourages Becky to play along, as he thinks this will finally be enough evidence to secure custody. However, Anna is a step ahead of them both, and has a deadly plan.
What happened in Lie With me episode 4?
HUGE spoilers ahead, don't read on if you haven't finished watching Lie With Me!
Becky successfully helps Anna set up and move into the safehouse whilst Anna puts more pressure on her to leave, causing her to doubt Jake more and more. Sensing her suspicions, Jake proposes to her! On the day Anna plans to leave Jake, she tells Becky to keep Jake busy at the beach house so she can move the kids. Predictably, Jake and Becky start fooling around again.
Becky finds Jake spiking the champagne he had brought with them to try and help her relax. Furious, she confronts him and starts questioning everything that's gone on between them. Angry, Jake tries to force himself onto her, but Becky manages to break free and flees to the safehouse.
As she gathers her thoughts, Becky realises that she is in too deep and decides to finally do the right thing, throwing the engagement ring in the bin and preparing to leave. As she does, the police arrive outside and bring her to the police station for questioning.
They reveal that Jake was found dead at the beach house, a victim of a sex act gone wrong. Becky begs to be allowed to speak to Anna as she is convinced Anna will defend her, but Anna claims complete innocence and acts like she knows nothing in her interview. Ultimately, Becky is convicted for Jake's death and imprisoned for manslaughter.
At the end of the episode, we see that Anna was at the beach house when they had their fight, and that she murdered Jake! She spiked his champagne with his drugs, tipped him into the pool so he drowned and left Becky's bracelet behind at the scene of the crime!
Is there a trailer?
Channel 5 released a trailer shortly before Lie With Me arrived in July. In it, we see Jake and Anna in Australia and trying to put their troubled past behind them. When Becky, their new nanny, arrives, the problems seem to come thick and fast!
Anna starts finding evidence that points to Jake having another affair and from there we see tense arguments, paranoia, and even a body bag!
Staff Writer at WhatToWatch.com
Martin is a Staff Writer with WhatToWatch.com, where he produces a variety of articles focused on the latest and greatest films and TV shows.
Some of his favorite shows are What We Do In The Shadows, Bridgerton, Gangs of London, The Witcher, Doctor Who, and Ghosts. When he's not watching TV or at the movies, Martin's probably still in front of a screen playing the latest video games, reading, or watching the NFL.
Thank you for signing up to Whattowatch. You will receive a verification email shortly.
There was a problem. Please refresh the page and try again.