Mammals — release date, trailer and everything we know about the comedy series starring James Corden
Mammals is a comedy series coming to Prime Video.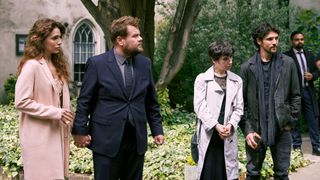 (Image credit: Amazon Studios/ Rory Mulvey)
Mammals is a comedy-drama from Amazon Studios written by two-time Olivier and Tony Award-winning playwright and screenwriter Jez Butterworth (Jerusalem, Spectre) and stars none other than talk show host and Gavin and Stacey star, James Corden and a range of hugely impressive stars alongside him.
Amazon revealed the show in 2021, though it took a long while before much info about Mammals. However, now we're nearing its release on Prime Video, we've finally learned a lot more about what to expect.
James is clearly hugely excited to be part of the series so far. He said "I don't really get starstruck by many people, but Jez [Butterworth] might be the only person that I'eve ever gone up to and gone, "Hello, I'm James. It's just an absolute honor to meet you." and said Mammals was "everything I've ever wanted to do".
Here's everything we know about Mammals so far, including the plot synopsis that was being kept under wraps for so long and the teaser trailer.
Mammals release date
Mammals will be available to stream in full on Prime Video from Friday, November 11.
How many episodes of Mammals are there?
Mammals is a 6-part comedy series.
Mammals cast
Image 1 of 4
Mammals' cast is truly impressive. Tony, Emmy and BAFTA Award-winner James Corden (Gavin & Stacey, The Late Late Show), Oscar and BAFTA nominee Sally Hawkins (Paddington, The Shape of Water), Melia Kreiling (Filthy Rich, Salvation), Colin Morgan (Humans, Merlin), Henry Lloyd-Hughes (The Irregulars, The Inbetweeners) and Samuel Anderson (Witless, Another Life) are all set to appear.
Corden and Kreiling play husband and wife duo Jamie and Amandine Buckingham. Jamie is a Michelin-starred chef in his thirties whose on the cusp of opening his first restaurant, named after his French partner. Amandine, is described as possessing 'impeccable style' and has a love of classical literature and the violin.
Colin Morgan plays Jamie's best friend, Jeff, who is a professor of veterinary medicine. He's married to Jamie's sister Lue (Sally Hawkins), though their marriage has come under strain as Jeff has begun to develop a dependency on alcohol. On paper, Lue, is a perfect wife but secretly she's starting to feel trapped in her lonely marriage and has started to escape into a fantasy alternate reality.
Henry Lloyd-Hughes, plays uber-rich and handsome people-pleaser, Jack Elliot, who is the heir to a huge property empire, whilst Samuel Anderson stars as Dan, Amandine's incredibly talented violin teacher.
Talking about his leads, Jez Butterworth said: "James Corden is the only ten-time Emmy-winning chat show host to also win the Tony Award for Best Actor. His performance in One Man Two Governors was like seeing Mickey Rooney, Terry-Thomas and The Marx Brothers rolled into one.
"His Smithy in Gavin and Stacey is for the ages — he took a needy, big-hearted mess of a supporting character and made it iconic. But neither is a patch on his Sea Monster in The Late Late Show Shape of Water sketch with Sally Hawkins. Google it."
"I am jubilant to be working with Sally again, and Colin Morgan too. Alongside the astonishingly talented Melia Kreiling, they make a team of world-class storytellers", he added.
Mammals plot
Now that we're nearing the show's release, Amazon has revealed a short plot synopsis for Mammals. It reads: "What starts as a romantic getaway, quickly escalates into a dark comedy-drama which explores the truths at the heart of modern relationships.
MAMMALS follows the story of Jamie (James Corden), a Michelin star chef whose world implodes when he discovers shocking secrets about his pregnant wife, Amandine (Melia Kreiling). Jamie finds himself hunting for answers with the help of his brother-in-law Jeff (Colin Morgan).
Through this hunt, the cracks in Jeff's marriage to Jamie's sister Lue (Sally Hawkins) also widen. Jeff attempts to get through to Lue, but this only makes Lue descend deeper into a secret fantasy world. Meanwhile, after a tragic loss, Amandine delves into her passion for violin but finds solace from an unlikely source."
Melia Kreiling described the show itself as something that "blurs the lines between romance, comedy, drama, indie... it's got all these elements where it just doesn't confine itself in a single genre or single category."
Earlier in the year, Jez Butterworth explained exactly that he didn't want to reveal much more about the show. "I'd love to be able to reveal more, but if I took you more than about six minutes into it, I would ruin the series. Everything that happens after the first six minutes is a spoiler" he said as the time.
"It's a relationship comedy that doesn't really discuss relationships at any point. It's more like a whodunit, and I think most relationships do end up as crime scenes, don't they? So I guess if you like James's work and Sally's work then you should watch it."
Is there a trailer?
A Mammals teaser trailer arrived in mid-October. It gives us a few brief snapshots of the relationships at the heart of the show and the strain that they've seemingly come under, all while Jamie Buckingham is asked to describe his relationship in a few choice words. "Confusion, anger, disbelief, fury, stupefaction, trauma, turmoil, and total astonishment" are what he goes for, which doesn't exactly sound promising!