MIKE: episode guide, trailer and everything we know about the Mike Tyson-inspired series
He was a legend in the ring, but his personal life also drew its fair share of spectators.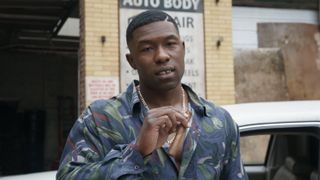 (Image credit: Patrick Harbron/Hulu)
It looks like Hulu subscribers should prepare to be knocked out with the arrival of MIKE, the drama series based on the legendary Mike Tyson. (We realize we shamefully went for the pun here, but we couldn't help it).
For many sports fans, the series is long overdue. As ESPN reports, of the 58 total fights that Tyson has boxed in his career, he won 50 of them, 44 of which were by K.O. He clearly didn't earn the name "Iron Mike" for nothing. While his astounding record certainly speaks to his athletic ability, it doesn't paint the story of his at times tumultuous life journey. From his public and rocky marriage with ex-wife Robin Givens, to his brief stint in prison to the bite seen around the world in his match with Evander Holyfield, he's found himself in some predicaments that have been the butt of bad press and bad, sometimes cruel, jokes.
With his historic career and personal life serving as the backdrop to the series, MIKE seeks to tell the unauthorized story of arguably one of America's greatest boxers.
Here's everything we know about MIKE.
MIKE episode guide
MIKE premiered on Hulu in the US with the first two episodes on Thursday, August 25. The remaining six episodes of the season will be released on the following Thursdays. Unfortunately, it looks like the series is being KO'd by both critics and fans thus far.
Below we've provided an episode guide for the season, which we will continue to update as the information becomes available. The final episodes of the series were released on Thursday, September 15.
Episode 1:"Thief"
From the perspective of his one-man-show, Mike Tyson asks the question 'Who am I?' as he reflects on his childhood in Brownsville, New York, where he already has 37 arrests on his record by the time he is just 13.
Episode 2: "Monster"
Cus D'amato discovers Mike at 13, gives him discipline, extremely honed skills and an ego, transforming Mike into the youngest Heavyweight Champion of all time. But at what cost?
Episode 3: "Lover"
"Mike falls hard for Robin Givens and asks, 'How can someone who hates himself love anyone else?'"
Episode 4: "Meal Ticket"
"Newly single with unlimited access to the world, Don King encourages Mike's excessive lifestyle, causing him to lose his title to Buster Douglas in the biggest upset in boxing history."
Episode 5: Desiree"
"An 18-year-old honor student from a small town in Rhode Island named Desiree Washington accuses Mike of rape."
Episode 6: "Jailbird"
"Mike reflects on his 3 years behind bars at the Indiana Department of Corrections."
Episode 7: "Cannibal"
"Tyson examines the complicated events that led up to his fight with Evander Holyfield and the bite heard around the world."
Episode 8: "Phoenix"
"Mike faces his demons, going from the most despised man in the world to beloved figure, as he comes to terms with who he really is."
By the way, check out what we found out on whether or not Don King really went to prison in our latest update to "Fact vs Fiction: Mike"
MIKE premise
Hulu describes the MIKE premise as the following:
"From creator/screenwriter Steven Rogers and the team behind I, Tonya, and showrunner Karin Gist, executive producer of Our Kind of People, MIKE explores the dynamic and controversial story of Mike Tyson. The eight-episode limited series explores the tumultuous ups and downs of Tyson's boxing career and personal life — from being a beloved global athlete to a pariah and back again. Focusing the lens on Mike Tyson, the series examines class in America, race in America, fame and the power of media, misogyny, the wealth divide, the promise of the American Dream and ultimately our own role in shaping Mike's story.
"MIKE is an unauthorized and no-holds-barred look at the life of Mike Tyson — and it is one wild ride."
Again, MIKE is unauthorized. As stated in Variety, the boxer has strongly come out against the project.
In other news, fans of Tyson will have the opportunity to watch an authorized version of his story when the limited series featuring actor Jamie Foxx (Ray, Spider-Man: No Way Home) hits the airwaves. Not only is Foxx playing Tyson in the subsequent project, but Martin Scorsese (Goodfellas, The Irishman) is also on board as an executive producer and Antoine Fuqua (The Equalizer 2, The Guilty) serves as director.
MIKE cast
Playing Iron Mike in the Hulu series is actor Trevante Rhodes. Rhodes shot to stardom after portraying Chiron in the Oscar-winning film Moonlight. Since then, he's gone on to star in films like Bird Box, The Predator and The United States vs. Billie Holiday.
Other notable names featured in the series include Russell Hornsby (Fences), Harvey Keitel (Lansky), Laura Harrier (Hollywood) and Li Eubanks (All Rise).
For a full list of the MIKE cast, be sure to visit IMDb.
MIKE trailer
Although MIKE may not be greenlit by Tyson himself, respectfully, it looks like something worth watching.
Earlier this year, Hulu also released the following clip advertising what may very well be a must-watch series of the summer.
Mike Tyson's response to MIKE
While it's been no secret that the real Mike Tyson has not been a fan of this project, he recently took to Instagram to further vent his frustration with the project stating:
"Don't let Hulu fool you. I don't support their story about my life. It's not 1822. It's 2022. They stole my life story and didn't pay me. To Hulu executives I'm just a [n-word] they can sell on the auction block."
To date, Hulu has yet to respond to Tyson's strong commentary.
How to watch MIKE
MIKE is a Hulu Original series that airs exclusively on the platform in the US. Those interested in watching the show will need to have a subscription to the streaming service, which consumers can sign up for as a standalone service or as part of the Disney Bundle.
The series airs exclusively on Disney Plus in the UK. Would-be viewers in the UK can begin watching on Thursday, September 8.
Get the What to Watch Newsletter
The latest updates, reviews and unmissable series to watch and more!
Terrell Smith has a diverse writing background having penned material for a wide array of clients including the federal government and Bravo television personalities. When he's not writing as Terrell, he's writing under his pseudonym Tavion Scott, creating scripts for his audio drama podcasts. Terrell is a huge fan of great storytelling when it comes to television and film. Some of his favorite shows include The Crown, WandaVision, Abbot Elementary and Godfather of Harlem. And a fun fact is he's completely dialed into the TLC 90 Day Fiancé universe.