Night Court: how to watch, cast, plot of the 2023 update
Night Court continues the story of the original series.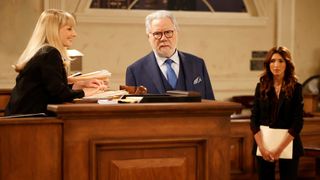 (Image credit: Jordin Althaus/NBC/Warner Bros. Television)
The original Night Court ran on NBC from 1984 to 1992 and chronicled the lives of staffers working the late shift in Manhattan's municipal court. Like NBC's newest iteration of Quantum Leap, Night Court isn't a reboot so much as it's a continuing story stemming from the original. It's more like Night Court: The Next Generation, if you will.
In this case, the gavel has been passed to Judge Harry Stone's daughter, Abby. Harry Stone was played to perfection by the late Harry Anderson, who passed away in 2018. Abby Stone is following in her father's footsteps, but her courtroom features a very memorable person from her father's days with John Larroquette's Dan Fielding, formerly an assistant district attorney who frequented Harry's courtroom.
Here's everything we know about Night Court.
How to watch Night Court
The next new episode of Night Court airs Tuesday, January 24, at 8 pm ET/PT on NBC. The episode title is "Just Tuesday" and this is the episode description: "After Abby makes a mistake in the courtroom, she decides to adopt an all-business approach to get things back on track, but her new style catches everyone off guard."
There is currently no information about when Night Court will be available in the UK, but as soon as we have that information we'll have it for you here.
Night Court episode guide
Here's a handy guide to keep track of the first season of Night Court:
Night Court season 1 episode 1: "Pilot"
"Abby Stone, the daughter of the late Harry Stone, takes over the night shift of a Manhattan arraignment court and hires former prosecutor Dan Fielding as public defender."
Night Court season 1 episode 2: "The Nighthawks"
"Abby pushes Dan to embrace his new role as public defender; Neil helps Abby improve the courtroom and learns why trying is for the birds."
Night Court cast
Big Bang Theory alum Melissa Rauch stars as Judge Abby Stone. Rauch has considerable experience lending her voice to some of the most well-known animated characters including Harley Quinn in 2017's Batman and Harley Quinn and Dinah in The Chicken Squad.
John Larroquette won four Primetime Emmy awards for his supporting role as Dan Fielding in the original series. Always quick with a joke or trying to defuse a tense situation with his client, Larroquette brought a combination of stoicism and levity to Harry Stone's court. Over the years Larroquette has appeared in a number of shows and movies including The Good Fight, Me, Myself and I, and The Librarians.
Here's the full cast:
Melissa Rauch as Abby Stone
John Larroquette as Dan Fielding
India de Beaufort (Zoey's Extraordinary Playlist) as Olivia
Lacretta (Gotham) as Donna Gurgs
Kapil Talwalkar (Zoey's Extraordinary Playlist) as Neil
Image 1 of 5
Night Court plot
The basic setup of Night Court follows the original series pretty closely. It's the story of what happens when the sun goes down in a New York municipal courtroom. With the addition of new characters, though, it's a whole new ballgame.
Here's the official synopsis from NBC:
"The eternally optimistic Abby Stone follows in the footsteps of her revered late father, Judge Harry Stone, as she takes on the challenge of overseeing the night shift of a Manhattan arraignment court.
"Abby always sees the best in people and her passion for justice is undeniable. In her quest to bring order and dignity to the court and reign in its colorful crew of oddballs, she enlists former night court district attorney Dan Fielding to serve as the court's public defender. Still exceedingly self-confident, Fielding must adjust to a new boss and a new job – defending the downtrodden. And, beneath his arrogant demeanor, there is an empathetic side to Fielding that Abby is determined to unearth.
"They both must contend with Olivia, the court's officious assistant district attorney. Driven and ambitious, she views the night court as a stepping stone on her way to bigger things. Neil is the court's neurotic clerk who loved that his job came with low expectations. That is until a new idealistic judge showed up looking to push him out of his comfort zone.
"Rounding out the staff is Donna 'Gurgs' Gurganous, the night court's sharp-witted bailiff. Gurgs takes her job very seriously and is fiercely protective of her night court colleagues.
"From executive producer and writer Dan Rubin (Unbreakable Kimmy Schmidt), Night Court is based on the original hit series that ran for nine seasons on NBC. Melissa Rauch and Winston Rauch executive produce through their After January Productions. Mona Garcea oversees for After January Productions and John Larroquette serves as a producer.
"Night Court is produced by Rauch's After January Productions in association with Warner Bros. Television and Universal Television, a division of Universal Studio Group."
Night Court trailer
Take one look at the trailer below and you'll see that Night Court is absolutely keeping in the spirit of the beloved original series:
Here's the first look teaser at Night Court:
How to watch Night Court
Night Court season 1 airs on NBC and streams the next day on Peacock. If you've cut the cord, you can watch NBC through DirecTV Stream, Hulu with Live TV, FuboTV, Sling TV and YouTube TV.
Get the latest updates, reviews and unmissable series to watch and more!
Editorial Content Producer
Sarabeth joined the Watch to Watch team in May 2022. An avid TV and movie fan, her perennial favorites are The Walking Dead, American Horror Story, true crime documentaries on Netflix and anything from Passionflix. You've Got Mail, Ocean's Eleven and Signs are movies that she can watch all day long.
When she's not working, Sarabeth hosts a podcast dedicated to books and interviews with authors and actors. She's also very close to realizing her lifelong dream of publishing a novel.
Thank you for signing up to Whattowatch. You will receive a verification email shortly.
There was a problem. Please refresh the page and try again.