The Split season 3: US release date, plot, cast, trailer and everything we know
The Split season 3 is heading to the US. Warning contains spoilers if you've not seen season 2!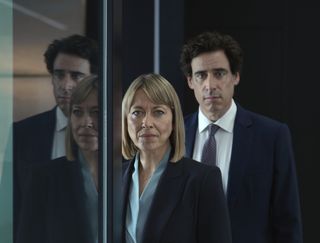 (Image credit: BBC)
The Split season 3 is the final installment in the gripping story about the Defoe family — and this season is the most personal yet for our lead character Hannah as it focuses on her own divorce. The series has wrapped up in the UK, but now US fans will have the chance to watch the last season as the drama heads to Sundance Now and BBC America.
We've already seen several complicated cases since we met divorce lawyer Hannah Stern (Nicola Walker) as she navigates the fast-paced world of London's high-end divorce circuit. But in season 2, we saw dramatic developments in Hannah's marriage to Nathan (Stephen Mangan).
The Split Season 2 was very well received by viewers, averaging over six million viewers and over 19 million streams, and it became the third most-watched drama series on BBC iPlayer in 2020. But what should we expect from The Split Season 3?
Nicola Walker said of the new series: "I don't think it's going to go where you might imagine it will... it's beautifully complicated and [creator and writer] Abi Morgan doesn't shy away from how messy this will get."
Stephen Mangan added: "Human emotion comes into it and complicates everything gloriously. For Hannah, this is her field, she's been giving out advice to other couples about how to do it well. But when it's your family, it's hard to always act in a good way. They're such lovely, conflicted characters."
Here's everything you need to know about the final installment of the drama...
The Split Season 3 release date
The Split season 3 will debut with a two-episode premiere on Thursday, June 23 streaming on both Sundance Now and AMC+. The Split will make its linear debut on Monday, June 27 at 11:00pm ET/PT on BBC America with new episodes airing weekly.
The third season returned to BBC One back in April 2022 and has now wrapped up in the UK. If you missed it, all episodes are available to watch on BBC iPlayer. You can also watch the first two series of The Split right now in the same place.
Here's how to watch The Split wherever you are in the world.
What is the plot of The Split Season 3?
At the end of Season 2, Hannah and Nathan's formerly rock-solid marriage finally fell apart as the depth of Hannah's betrayal was revealed. Ten months on, the two professional divorce lawyers have been respectfully negotiating their separation and seemed to have reached an amicable agreement. But, as she and Nathan begin to divide up their twenty years together, Hannah faces what she is about to lose. The synopsis also teases that their dream of achieving a "good divorce" is left in tatters.
We'll also see more from the other Defoe sisters, Nina (Annabel Scholey) and Rose (Fiona Button) and their formidable mother Ruth (Deborah Findlay), as we continue to delve into the family's messy lives.
Series writer Abi Morgan says: "It's great to be back writing for the Defoe Family and to dive once more into the complications of their lives and those of their clients. In the final series of this bittersweet trilogy, Hannah faces the heartbreak of her own divorce, and the fight to save her family and her marriage. Siblings clash, past mistakes are exposed and hearts are broken as Noble Hale Defoe notches up more billable hours in the divorce capital of the world."
Episode guide for The Split season 3
Episode 1: Hannah and Nathan are in the final stages of negotiating their divorce, but when it becomes clear Nathan has met someone else the amicable separation takes a turn for the worse.
Episode 2: Hannah's relationship with Nathan unravels when he drops a bombshell, and Rose struggles to cope with her grief.
Episode 3: Tensions rise as Hannah and Nathan struggle to disentangle their lives. Christie arrives in London and Rose has a clear out.
Episode 4: Hannah allows herself to dream of a life elsewhere with Christie, while Nathan starts to doubt his relationship with Kate. Ruth breaks some devastating news to Zander.
Episode 5: Rose grapples with James' absence at the family camping trip. Ruth learns of Nina and Tyler's affair, and the extent of Tyler's deceit is revealed.
Episode 6: The series finale. With Kate and Nathan's relationship on the rocks, Hannah makes a decision which shapes all their futures.
Who stars in The Split Season 3?
Several familiar faces are returning for The Split season 3, as we prepare to say goodbye to the characters we've followed for the past two seasons. Here's some of the leading names in the cast...
Nicola Walker as divorce lawyer Hannah Stern
Stephen Mangan as Hannah's husband, Nathan Stern
Barry Atsma as Christie
Fiona Button as Rose Defoe
Annabel Scholey as Nina Defoe
Deborah Findlay as Ruth Defoe
Lara Pulver as Kate
Chukwudi Iwuji as Zander
Is there a trailer?
Yes, a dramatic trailer has been released for this upcoming series and you can watch it below:
How does The Split season 3 end?
*Warning — spoilers for the end of The Split season 3*
Throughout the course of season 3, Stephen and Hannah were forced to reflect on their marriage and decide whether or not they wanted to go through with a divorce. It wasn't an easy decision and it's clear they still had feelings for each other, so fans watched as they both confronted the realities of their situation.
Viewers knew that Hannah had an affair with Christie (Barry Atsma), and Stephen had also seemed to have moved on when he got with Kate (Lara Pulver), and there were some developments in that relationship as Kate fell pregnant.
Ultimately, Stephen and Hannah have to reach a conclusion about their marriage, and they realise it was best for them to go their separate ways which is where the whole season ends.
Get the What to Watch Newsletter
The latest updates, reviews and unmissable series to watch and more!