The Time Traveler's Wife: trailer, cast and all we know about the drama series
The television adaptation of The Time Traveler's Wife is set to premiere this May.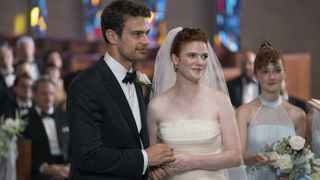 (Image credit: Barbara Nitke/HBO)
Fans of Audrey Niffenegger's The Time Traveler's Wife received some welcomed news back in 2018, when HBO announced that it would be producing a series based on the novel. Now, it is one of the most anticipated new TV shows of 2022.
Although when the story of Henry DeTamble and Clare Anne Abshire was put on the big screen it received mixed reviews, HBO hopes its television drama garners more critical acclaim. Especially, since the series sees the award-winning romance in the hands of Emmy winner David Nutter, a director whose credits include Game of Thrones, as well as Doctor Who and Sherlock writer Steven Moffat.
Here's everything we know about The Time Traveler's Wife.
When is the next The Time Traveler's Wife episode?
The new iteration of The Time Traveler's Wife premiered in the US on Sunday, May 15, and in the UK on Monday, May 16. The rest of the episodes for the season debut on the following Sundays and Mondays respectively.
The season finale airs in the US on Sunday, June 19, at 9 pm ET/PT on HBO and HBO Max, and in the UK on Sky Atlantic the following day.
Below you'll find an episode guide for the season.
Episode 1
"Since she was six years old, Clare has had an imaginary friend: a kind and funny man, sometimes old, sometimes young, who appears in the woods behind her house and tells her tales of the future."
Episode 2
"After a rocky first meeting, Henry and Clare try to reset with a second date, but she still struggles to rectify this Henry with the man she knows and loves. Henry takes Clare back to the most formative moment of his childhood."
Episode 3
"As Clare laments her linear lifetime and the unpredictability of her soul mate's appearances, a teenage Clare turns to Henry for help."
Episode 4
"Clare invites Henry to a dinner party, but when it's crashed by another Henry, secrets are spilled. Meanwhile, Clare tries to make her 18th birthday perfect."
Episode 5
"Henry is finally able to get to know Clare's family better when he visits her childhood home for the first time. Henry and Gomez's friendship isn't going as they imagined."
Episode 6
"As his wedding day with Clare approaches, an increasingly stressed Henry finds unexpected solace in his estranged father."
Check out the preview for the season finale.
The Time Traveler's Wife trailer
Although there are arguments to be made as to the story being more of a science fiction piece, The Time Traveler's Wife trailer makes it quite clear that the series leans more into the story's romantic roots. One can't help but watch it and almost feel as if HBO is hoping to capture some of The Notebook kind of magic with the series.
The Time Traveler's Wife plot
HBO describes the series as:
"An intricate and magical love story, adapted by Steven Moffat from the much-loved novel by Audrey Niffenegger and directed by David Nutter. The Time Traveler's Wife tells the story of Clare and Henry, and a marriage with a problem... time travel."
For those less familiar with the popular The Time Traveler's Wife novel on which the series is based, the book follows Henry DeTamble and Claire Anne Abshire. He's a librarian with a genetic disorder that causes him to involuntarily travel through time, and she's his wife and an artist who must deal with his frequent absences. Naturally, his unique ability causes its own set of relationship woes, but his time-traveling also forces the pair to get to know each other in ways most real-life couples are never compelled to explore.
The Time Traveler's Wife cast
At the helm of The Time Traveler's Wife cast are Theo James and Rose Leslie, playing Henry and Claire respectively. James is most recognized for his role as Tobias "Four" Eaton in The Divergent trilogy, as well as the hit show Sanditon. Leslie should also be a familiar face to viewers as she has starred in Downton Abbey, Game of Thrones and most recently, The Good Fight.
The entire main cast is as follows:
Rose Leslie as Clare Abshire
Theo James is Henry DeTamble
Desmin Borges plays Gomez
Natasha Lopez is Charisse
Caitlin Shorey and Everleigh McDonell will play younger versions of Clare Abshire
Michael Park is Philip Abshire
Jaime Ray Newman plays Lucille Abshire
Taylor Richardson plays Alicia Abshire
Peter Graham is Mark Abshire
Brian Altemus and Jason David will play younger versions of Henry DeTamble
Kate Siegel plays Annette DeTamble
Josh Stamberg is Richard DeTamble
Chelsea Frei is Ingrid
Marcia DeBonis plays Nell
Will Brill is Ben
Spencer House plays Jason
How to watch The Time Traveler's Wife
The Time Traveler's Wife airs live on HBO in the US. Those without traditional cable will also be able to view the show live via TV streaming services like Hulu with Live TV and YouTube TV.
Streamers can also watch the show on HBO Max. Subscribers to HBO get free access to HBO Max, but you can also sign up for it as a stand-alone streaming service for either $9.99 per month (with ads) or $14.99 per month (ad-free).
UK viewers can watch The Time Traveler's Wife on Sky Atlantic.
Has The Time Traveler's Wife been renewed?
Unfortunately for fans of the show, HBO has decided to cancel it after one season.
Get the What to Watch Newsletter
The latest updates, reviews and unmissable series to watch and more!
Terrell Smith has a diverse writing background having penned material for a wide array of clients including the federal government and Bravo television personalities. When he's not writing as Terrell, he's writing under his pseudonym Tavion Scott, creating scripts for his audio drama podcasts. Terrell is a huge fan of great storytelling when it comes to television and film. Some of his favorite shows include The Crown, WandaVision, Abbot Elementary and Godfather of Harlem. And a fun fact is he's completely dialed into the TLC 90 Day Fiancé universe.