'Vikings: Valhalla' season 1: release date, cast interview, plot, trailer, first looks, and everything about the historical drama
'Vikings: Valhalla' on Netflix has battles galore as it tells the story of an 11th-century invasion of England.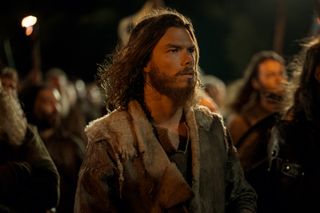 (Image credit: Netflix)
History fans will be delighted to see Vikings: Valhalla back on our screens, with the action-packed new series telling the story of some of the most famous Norsemen (and women) who ever lived. A spin-off of History' Channel's hit historical drama Vikings, this new saga is set in the 11th century, over one hundred years after the original series. It was filmed in Ireland between October 2020 and early 2021.
In an interview with us, Sam Corlett (Leif Eriksson) teased a bit about what we can expect from the gripping new series. He said: "It was a tumultuous era. In the series, the Vikings are at war with the English, but we also see them clashing with each other over religion.
"By this time, many of them had converted to Christianity, bringing them into conflict with their pagan brothers and sisters. That's a major part of the series – these years proved to be a last stand for the old Viking way of life."
So here's everything we know so far about Vikings: Valhalla on Netflix.
'Vikings: Valhalla' release date
The eight-part series Vikings: Valhalla is released on Netflix on Friday, Feb. 25, 2022. A second season of Vikings: Valhalla has already been filmed, with a third also in the works, so this Norse saga is just getting started!
What happens in 'Vikings: Valhalla'?
Vikings: Valhalla happens a thousand years ago in the early 11th century and the series chronicles the heroic adventures of some of the most famous Vikings who ever lived. The big focus is on legendary explorer Leif Eriksson (Sam Corlett), his fiery and headstrong sister Freydis Eriksdotter, who are both from Greenland, plus the ambitious Nordic prince Harald Sigurdsson and the Danish King Canute.
In the early 11th century, tensions between Vikings and the rulers of England have reached a blood-soaked breaking point. King Æthelred II (Bosco Hogan) of England vows to rid his country of Vikings and sends armies to slaughter Viking families in settlements already established in the Danelaw area of England. When King Canute of Denmark hears of the massacre he vows to take revenge for the genocide. He builds an army in Scandinavia ready for invasion, where his forces are joined by Leif and his sister Freydis (Frida Gustavsson) who arrive there after a dangerous voyage from Greenland.
After joining forces with Nordic prince Harald Sigurdsson (Leo Suter) Leif joins the army of King Canute (Bradley Freegard) as the Viking wage war on England, planning a huge raid on its capital London. But the Vikings themselves clash over their conflicting Christian and pagan beliefs. What ensues is battle, turmoil, murders and huge power struggles...
'Vikings: Valhalla' cast — who is starring
In Vikings: Valhalla, Sam Corlett (The Chilling Adventures of Sabrina) stars as intrepid explorer Lief Ericksson, who spoke to us about how he got some inspiration for the lead role.
He revealed to us: "We see this world through Leif's eyes, so we talked at length about how I should play the role. I was really inspired by those laconic characters from film history played by Clint Eastwood and Robert Redford. Leif's very economical and precise with his words and actions, so nothing's wasted.
"The Vikings are at war with the English, but we also see them clashing with each other as some of them were Pagan and some of them had converted to Christianity. These years proved to be a last stand for the old Viking way of life."
Meanwhile, Swedish actor and model Frida Gustavsson, who starred in The Witcher, plays his sister Freydis Eriksdotter.
"Freydis was raped by a Christian Viking and she's determined to get justice,' explains Sam Corlett. 'Helping his sister drives Leif on at the start, but as the story continues he's determined to escape the shadow of his father, Erik the Red, who's famous all over the Viking world."
Leo Suter (Beecham House, Sanditon) plays Nordic prince Harald Sigurdsson while Welsh actor Bradley Freegard (Casualty, Doctors) plays King Canute the Great, who ruled England for two decades from 1016, and German actress Laura Berlin plays Emma of Normandy.
Other cast members include Pollyanna McIntosh (The Walking Dead) as Queen Ælfgifu of Denmark, David Oakes (The White Queen) as Earl Godwin and Jóhannes Haukur Jóhannesson, who played Lem Lemoncloak in Game of Thrones, as Olaf 'The Holy' Haraldsson.
Is there a trailer for 'Vikings: Valhalla'?
Yes there's a full official trailer for Vikings Valhalla, plus there are a couple of teaser trailers to enjoy. So check them all out here...
Episode 1 recap
In the first episode we're introduced to gifted explorer Leif Eriksson and his shield-maiden sister Freydis Eriksdotter, who definitely isn't one to be messed with as she's incredibly skilled when it comes to sword fighting.
The duo meets with Harald Sigurdsson, an ambitious Nordic prince who recognizes Eriksson's talent, and sees an opportunity for career advancement as a seige is upon them.
Viking armies converge in Kattegat, and are plotting to avenge a massacre in England. This war is headed up by King Canute who is aided by Harald Sigurdsson, and keen to latch onto Eriksson and what he can bring. This upcoming war is set to cause a catalyst for the rest of the season.
What might happen in 'Vikings: Valhalla' Season 2 and 3?
With the age of the Vikings coming to an end, future series, including Vikings: Valhalla Season 2, which is filming now, and Season 3 which has been announced, are expected to cover the death of King Edward the Confessor. At that time Harold Godwinson, William of Normandy and Norwegian King, Harald Hadrada, are in a struggle familiar to all history buffs. Yes the lead up to 1066! We can't wait...
Get the What to Watch Newsletter
The latest updates, reviews and unmissable series to watch and more!
Feature writer for TV Times, What's On TV, TV & Satellite Week and whattowatch.com
Sean has been writing about all things telly for over 10 years and in that time he's been lucky enough to interview stars like Ian McKellen, Tom Hardy and Kate Winslet. His favourite shows are The Great British Bake-Off, People Just Do Nothing and Succession and in his spare time he enjoys drinking tea, doing crosswords and watching football.