Casualty wins coveted BAFTA… and George Rainsford looks rather stunned!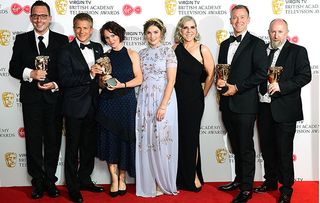 (Image credit: PA Wire/PA Images)
Casualty celebrate their BAFTA win
Casualty claimed the Best Soap and Continuing drama award at tonight's TV BAFTAs, leaving George Rainsford, who plays Ethan Hardy, looking slightly stunned when he learned the news!
Earlier in the day, George had tweeted fans, "Wish us luck," before heading off to the ceremony at London's Royal Festival Hall. Later the popular star tweeted a picture of himself with the award.
As the results were announced, George looked rather stunned to learn that Casualty had seen off strong competition from Coronation Street, Emmerdale and Hollyoaks.
Taking to the stage with other members of the cast and crew, George quickly gained his composure and thanked fans.
"We'd like to thank everyone who watches the show. The doors of Holby City hospital have been open for 32 years, which is an amazing achievement, especially when you consider the dubious mortality rate of both the patients and staff there!"
George later told the Press Association: "Casualty has been around for 30 years. It keeps challenging itself. It keeps challenging the viewers and producing big stories that people can hopefully relate to.
"It keeps championing the NHS. I'm genuinely speechless as I didn't think we'd be here to accept this award."
Casualty had been nominated 14 times in the category, but this was only the second time it had won. And the last time the BBC1 show won this coveted BAFTA award was back in 2007. Amanda Mealing, who plays Connie, had previously told us she was surprised they'd been nominated. She said: "I honestly didn't [think we had been nominated] because I'm a member of BAFTA and when I scanned through the long list of nominations I couldn't see Casualty!"
Pic credit: PA Wire/PA Images
Get the latest updates, reviews and unmissable series to watch and more!
Thank you for signing up to Whattowatch. You will receive a verification email shortly.
There was a problem. Please refresh the page and try again.