Adam is arrested in 'Pushgate' – and he starts to crack, says Corrie's Sam Robertson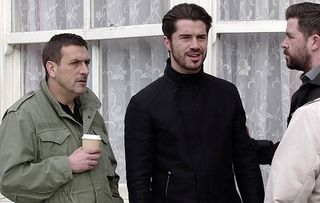 Cocky Adam Barlow is the latest suspect to be arrested in the 'Who pushed Ken?' case… Star Sam Robertson explains what happens
As Adam Barlow becomes the main suspect in the attempted murder of Ken, Soaplife caught up with Corrie actor Sam Robertson to get the inside story...
How does Adam feel when he's arrested, Sam? "As a trained lawyer, who knows what's required to escape prosecution, Adam acts quite casually because he feels there is not sufficient evidence to pin anything on him. But he's also a duplicitous fellow and could either be being clever or he really is guilty."
How will Adam cope if he's sent to prison? "Not very well – he likes his home comforts and the good things in life. I had to do a scene in the police cell and that was bad enough, I don't want to be doing too many of them!"
Is Adam scared deep down? "The arrogant front he has covers up his insecurities. It's a protective thing, but it starts to crack under pressure. He's really quite damaged and that starts coming out. It's great to play him as a more three-dimensional character."
Would Adam see a member of his own family go to prison if it meant saving his own skin? "It would depend on which member of the family it was. He would take the hit for Amy [Elle Mulvaney], but he wouldn't take it for Tracy [Kate Ford]. I don't think he would do it for Daniel [Rob Mallard], either, but he might do it for Peter [Chris Gascoyne]. It's interesting."
Do you know who pushed Ken? "I'm still in the dark. I did wonder about asking if it was Adam, but then I decided it was better to play it not knowing. I keep coming back to thinking it was Adam, though."
What are the long-term consequences for the Barlow family, post 'Push-gate'? "The whole investigation has opened up some old wounds and it is hard to see how they can all come back together. Adam returned to Weatherfield under the pretence that he is part of a happy family and he wanted to feel safe and secure, but he has come back to this madness. The Barlows are very ready to believe it was Adam who attacked Ken [William Roache]. If it turns out he didn't, the damage has still been done."
Coronation Street, ITV
Get the What to Watch Newsletter
The latest updates, reviews and unmissable series to watch and more!