Coronation Street's Chris Gascoyne: Peter Barlow is shot! 'Carla is hysterical!!'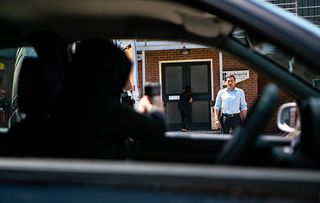 Peter Barlow is hit in the chest in Corrie drama
Coronation Street star Chris Gascoyne has revealed that Peter Barlow takes a bullet next week, leaving Carla (Alison King) "hysterical".
The bullet is meant for Simon – who returns to Weatherfield following a break with Ken – but gangster Tyler ends up shooting Peter instead.
Talking about the dramatic scenes, Chris says: "This has been hanging over them for months and he knows Simon is not safe with Tyler out for revenge. Things turn really nasty when Peter gets caught in the crossfire, literally. Tyler's mates have a gun and they fire out of a car window, Peter is hit in the chest and Carla is hysterical."
As Carla frets about her ex, Michelle suggests she still has feelings for him. "Michelle certainly reads that into it, but whether Carla admits it is another matter," says Chris.
So, does Chris think that if Peter survives he'll end up with Carla?
"Who knows, Carla will certainly try to keep him at arms length so they will be skirting around each other for some time to come I think."
Chris also mentions that Nick returning to Weathefield could also put a spanner in the works.
"Peter is older and wiser now and he knows that a lot of water has passed under the bridge, he is maybe not as impulsive and for now he is going to throw all his energies into the factory and proving that he can help run the business successfully and the see what follows, if anything. But with Nick about to arrive back on the scene anything could happen."
Coronation Street continues on ITV.
Get the latest updates, reviews and unmissable series to watch and more!
Thank you for signing up to Whattowatch. You will receive a verification email shortly.
There was a problem. Please refresh the page and try again.