'Watch out Eileen!' Coronation Street's Sue Cleaver reveals evil killer Pat Phelan turns on his wife!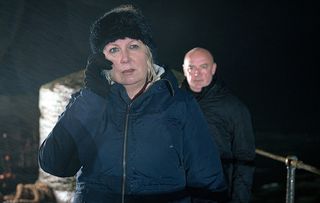 (Image credit: Andrew Boyce)
Coronation Street actress Sue Cleaver has revealed that Eileen looks set to become hubby Pat Phelan's next murder victim!
Actress Sue Cleaver has told Soaplife that it could be the end for Coronation Street's Eileen after she finds out the whole horrific truth about her husband Pat Phelan's crimes.
What's the story?
Apart from loved up wife Eileen, everyone know Pat Phelan's a bad 'un – even though he's kept the worst of his evil deeds covered up… In concrete to be exact. Even the discovery that her hubby tried to con his neighbours out of cash over the housing development hasn't sent Eileen running.
"To begin with, she decides to stay with him, even though she's furious," actress Sue Cleaver told Soaplife. "But the only way they can have any kind of future is if they move away. They go and look a cottage for sale by the sea and it's while they're there that Eileen discovers the terrible truth about the man she married!"
What's happening in Coronation Street? See the latest soap storylines.
Sue Cleaver's interview with Soaplife
Soaplife: When does Eileen start to get suspicious?
Sue Cleaver: "While they're at the cottage, Phelan hires a boat but he tries to take it out on his own – and this is when Eileen starts to think things are a bit fishy… Eileen is about to climb aboard with him when he tells her she's crowding him. She's confused. One minute, Phelan's planning their joint future away from Weatherfield and, the next, he's saying he needs space. Instead of leaving him alone, she goes back to the boat with a picnic."
S: What happens next?
SC: "She accidentally drops the picnic hamper and her keys into the sea. The viewers will be thinking, 'You're in trouble now, Eileen!' But then we see a caring side of Phelan. Eileen hurts her foot and Phelan stops to tend to her rather than making his getaway."
S: Is his love for Eileen the chink in his armour?
SC: "Phelan wants to help get her a taxi before he disappears and that is his downfall in the end - the fact that he has genuine feelings for her. She tells him to just leave her alone but then she gets a signal on her phone and there's a message from Tim telling her about the bodies at the mill and the fact she's in danger."
S: And…?
SC: "Phelan turns on her. There's a tussle and there really is a fight for her life!"
Coronation Street continues on ITV.
Get the latest updates, reviews and unmissable series to watch and more!
Thank you for signing up to Whattowatch. You will receive a verification email shortly.
There was a problem. Please refresh the page and try again.