Evil Phelan 'entombed in concrete'? Coronation Street's Conor McIntyre reveals latest twist!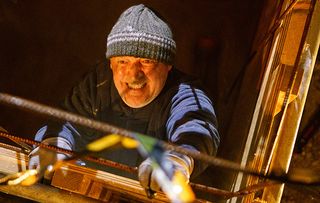 (Image credit: Mark Bruce)
Coronation Street actor Conor McIntyre has explained about the latest shock storyline for killer Phelan which may see him meet a sticky end
Actor Conor McIntyre has talked to Soaplife about the latest events in the Phelan storyline. When the killer tries to make sure the bodies stay hidden he has a terrifying fall…
What's the story?
Pat Phelan is panicking, knowing that any minute now the bodies of Andy Carver and Vinny Ashford could be found at the construction site.
"He knows he's going to have to move very quickly in order to get the bodies out of the lake and into the concrete footings." actor Conor McIntyre told Soaplife. This is his one chance to do away with any evidence that will link him to those murders but it's all starting to cave in on him."
Literally, as it turns out. . .
What's happening in Coronation Street? See the latest soap storylines.
Conor McIntyre's interview with Soaplife
Soaplife: Phelan's feelling the pressure, right?
Conor McIntyre: "If those two bodies are found and identified, it's all going to start coming back to him. But, once again, he thinks everything will work out as he has the perfect plan - get the bodies out of the water and into the concrete."
S: And one of the bodies helpfully floats to the surface of the remaining water!
CM: "Phelan's got to be really quick. He thinks he can get this job done and be back in time for the party that's being thrown for him by his wife, Eileen. He manages to get the bodies out of the water, drag them across planks and across staging to get them in to the footings. At that point he thinks that the job really is finished."
S: But then his phone goes off. . .
CM: "He's put it down on a plank for a second and it starts vibrating. It's Eileen and, just as Phelan gets to the phone, it falls in the cement. He climbs down into the footings because it's not that full of concrete by then. But once he's in, he realises he can't get out!"
S: What were those scenes like to film?
CM: "Fantastic! We had absolutely the worst weather, only this time we had rain machines as well as the cold and we even had lightning! So, to say it is Shakespearean is not an exaggeration."
S: Does Phelan believe this is the end?
CM: "Yes. To see him in that moment, he thinks, 'Wow this could be it!' and he's incredulous. He may well be entombed in concrete – just like the two he murdered. That would be some kind of poetic justice all right!"
Coronation Street, ITV
Get the latest updates, reviews and unmissable series to watch and more!
Thank you for signing up to Whattowatch. You will receive a verification email shortly.
There was a problem. Please refresh the page and try again.