Corrie's Bruno Langley: 'Todd is the man to bring Phelan down!'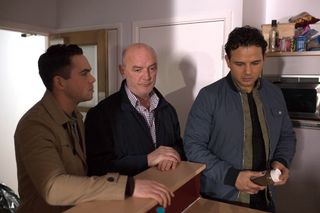 (Image credit: Mark Bruce)
Bruno Langley (opens in new tab) tells Soaplife that Todd is more than a match for lying, cheating builder Pat Phelan in Coronation Street.
How come Todd's the only Grimshaw who thinks Phelan's a wrong 'un?
"Todd's an intelligent guy who's very intuitive and good at sussing people out. There's something he just doesn't like about this guy Phelan [Connor McIntyre (opens in new tab)] – he's not going to have him walk all over the Grimshaws like he did the Windasses."
Todd's hardly an angel himself…
"True, but maybe it's because Todd has this devious side that he recognises it in other people. Having been ostracised from his family in the past and not having that many friends, Todd now knows what's important. I can't see him screwing over his family again – in fact, he's there for them now and feels protective of them."
Todd can be very tricky – do you think he's a worthy opponent to Phelan?
"Definitely. It seems like he'll go all the way to protect his family. While Todd may not match up to Phelan physically, as I say, Todd's intelligent, very quick, and if there's something to find out about Phelan he'll spot it. Such as how Phelan's interested in the money Jason's [Ryan Thomas (opens in new tab)] dad left him."
Would you like Todd to be the one who brings Phelan down?
"I think it should be Todd, of course! Yes, I'd like Todd to be part of his downfall. Todd says to him, 'You're going to mess up and I'm going to be right there'."
Coronation Street (opens in new tab), ITV
Get the What to Watch Newsletter
The latest updates, reviews and unmissable series to watch and more!