Emmerdale's Micah Balfour explains Bailey's logic: 'He's fallen for Belle, which is why he's been so stupid'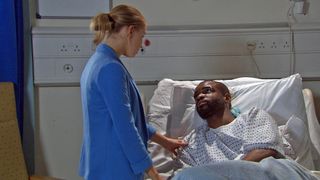 Emmerdale's dodgy doctor Jermaine Bailey needs a lot of TLC after Cain finds out the truth about him and Belle! Micah Balfour (opens in new tab) reveals all to Soaplife…
How does Dr Bailey feel about Belle?
"He has very strong feelings. He's fallen for Belle [Eden Taylor Draper (opens in new tab)] in a big way, which is why he's making such stupid decisions. I imagine he'd feel quite torn, too, as he's made her go along with this nasty lie about being his stalker. At the time, though, it was the only way out, although he regrets it now because the lie is growing."
Does he love his wife, Angie?
"He does love Angie [Nina Toussaint-White (opens in new tab)] and the life they have and he hasn't completely given up on that yet. Obviously, though, the way he's going, it's increasingly difficult to continue down that avenue."
Does he want to carry on seeing Belle?
"Yes. He wouldn't have strung her along for the sake of it. His feelings are genuine and that's why he's put himself into such a dangerous predicament. Things really spiral out of control. There is a big meeting with Angie and the Dingles… and let's just say it doesn't go well."
How does Cain react when he finds out about the affair?
"This is the moment viewers have been waiting for. Cain has been lied to; he believed Belle was stalking Bailey. Cain [Jeff Hordley (opens in new tab)] isn't someone to be messed. It all kicks off and Bailey gets battered, ending up in hospital."
Does that mean the affair's over?
"You'll have to wait and see. It's not looking good for the doctor. though."
Emmerdale (opens in new tab), ITV
Thank you for signing up to Whattowatch. You will receive a verification email shortly.
There was a problem. Please refresh the page and try again.