Gary Windass tracks down killer Phelan says Coronation Street's Mikey North!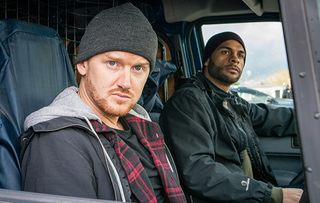 (Image credit: Andrew Boyce)
Mikey North reveals how Gary Windass puts himself in danger when he finds Coronation Street killer Pat Phelan…
Gary Windass is shocked when he spots Pat Phelan, alive and well and living on a Welsh campsite…
What's the story?
Gary Windass doesn't hang about. When he has a hunch that Nicola Rubinstein's new on-line buddy from Abergele in Wales may not be all they seem, he decides to snoop. "He travels to Abergele and goes around all the caravan parks but doesn't find anything – at first. But he gets a call later that day from a guy who thinks he might have seen someone who sounds very much like… Pat Phelan," actor Mikey North tells Soaplife. Gary's horrified but feels compelled to confront him…
What's happening in Coronation Street? See the latest soap storylines
Mikey North's interview with Soaplife about Gary Windass finding Phelan…
Soaplife: How does Gary go about his plan?
Mikey North: "He calls his friend Joe from the army and asks for one favour. Together they go to Abergele."
https://youtu.be/_HOhZ_jcZLc
S: What should Gary do when he sees Phelan?
MN: "Well, he shouldn't have gone to Abergle in the first place! He should have stayed put and called the police! But that's easier said than done."
S: Did Gary have any suspicions that Phelan was still alive?
MN: "None. But he's annoyed with himself for letting all this happen and so he feels as if it's got something to do with him. Once the thought is in Gary's head, he doesn't let it go and he has to see it through."
S: That's always been Gary's way, hasn't it?
MN: "Gary makes the wrong decisions with the right intent. Although his heart is always in the right place, he doesn't see what is going to unravel afterwards. But the subplot here is his mum, Anna. He knows that he is doing this for her."
S: What happens when he sees Phelan?
MN: "Gary has told Joe he just wants to scare Phelan. But once Gary lays eyes on his nemesis, all that goes out of the window and he makes a really bad decision…"
S: What is driving Gary?
MN: "He knows what he's doing is wrong but Phelan has ruined the lives of so many people and put so many people in danger. Gary wants to see it through to the end and this is his way of going about it."
Coronation Street continues on ITV.
Get the What to Watch Newsletter
The latest updates, reviews and unmissable series to watch and more!