It's coming! Corrie's Tina O'Brien and Paula Lane on Sarah's Easter surprise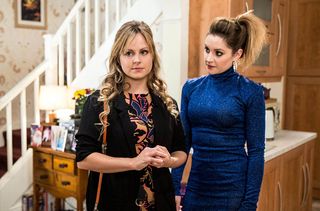 (Image credit: Joseph Scanlon)
Ahead of the arrival of baby Harry Platt, TV Times talks children, chocolate and Kylie's final Easter on Coronation Street with Tina O'Brien and Paula Lane.
Tina, this is the third time you've given birth in Corrie. Does it get any easier?
"I think if anything, it gets harder, because you know what you're about to do – you know there's going to be lots of huffing and puffing scenes!
"I got a little bit carried away and started stocking up with chocolate in my handbag; I was like 'I need to keep my strength up!' It's weird, because it actually took longer playing labour than it did for me in real life [Tina has two children – seven-year-old Scarlett and 17-month-old Beau]. Both my real labours were quite short, especially my second, which was an hour and 45 minutes.
Paula, Kylie is supposed to be Sarah's birth partner, but misses all the action. Why?
"She's otherwise engaged. She has befriended this chap, Freddie, who was the husband of a client who died. They're a bit of a mismatch, but they find comfort in each other, and Kylie helps him sort through his wife's clothes. Time ticks on and she realises that Sarah has left her a message."
How does Sarah feel when the baby arrives?
"She loves Harry, but she's in a really bad place because of what she went through with Billy [Sarah's son with Todd, who died shortly after his birth in 2004]. She feels so over-protective and is scared that a similar thing will happen again. Also, everything that happened with Callum is resurfaced."
What about Kylie? She was very positive about Sarah's pregnancy – does she still feel that way?
"I think she's blinded by it in a nice way. She really feels like it's a fresh start and it's a new life for a death. It's her way of relieving the guilt, I guess."
How does the arrival of Callum's mum Marion affect the mood?
Tina: "Sarah sees Marion as a threat, because she reminds her of everything that went on with Callum. Also, because Sarah's very possessive of the baby, she doesn't want Marion influencing him. She feels that if a mother like her can turn out a son like him, she doesn't want her to have anything to do with Harry."
Paula: "David and Kylie know that Sarah's the weak link; she needs that extra bit of care and attention, especially after having the baby. So I think they're both aware that she needs to be watched. When Todd tells them that Sarah has kicked off because of Marion turning up, they try to diffuse the situation and calm her down."
What's it like having a new baby on set?
Paula: "We've got three! We have twins – Presley Pearl and Pixie Rose – and they are girls playing a boy. They're babies number four and five for their mother, so she's got her hands full, bless her! And then we've got Woody, who's a little dot. I think they were all premature to some degree, and they're all beautiful. It is a bit confusing, because the actor who plays Max is called Harry, so when the director says 'Can we have Harry to set', we're like 'Which one – Harry the baby or Harry who plays Max?'"
Tina: "It's really lovely, and we did our first scenes with them when they were about 5lb. One of them had a hiccupping fit recently, which was the cutest thing ever – we had to wait a little while before we could start filming again."
Your producer, Stuart Blackburn has said that it won't be too long before Callum's body is discovered [he was murdered by Kylie in Corrie's live episode in September, then buried under Gail's granny flat]. How much do you know about this storyline?
Tina: "I know everything! I've been given quite a lot of information, which has been useful in working out how to play scenes, going forward. I think there'll be a lot of speculation, particularly around whether Kylie goes to prison, but maybe that would be too easy. I won't say any more, but there's going to be a lot of twists and turns, and it's quite interesting the way things play out."
Paula: "I know the broad brushstrokes, but I definitely can't say anything! Kylie's at the mercy of the writers, isn't she? From the minute they made her a murderer, things were put in place. There's a major shift that happens to a character when you commit a mortal sin like that."
Paula, you recently announced that you won't be returning to the soap when you leave to have your second baby this summer. How do you feel as the clock ticks down to your departure?
"To be honest, I'm just relishing what time I've got left. It's not that I dislike the show or the character, I just feel like I want to try something else. So I'm savouring my time here and trying to put in 100 per cent."
Do you think there's anyone on the Street who'd be a good match for David once Kylie has gone?
"No, I've said that they might have to turn him the other way! They've never tried that one on him, have they? They'll have to bring him in some new totty. He's got to get over me first, though!"
Finally, with the Easter weekend approaching, do you have any special plans?
Tina: "We'll probably have an Easter egg hunt, because my daughter loves things like that. And my little boy's favourite thing in the world is chocolate – it's one of the few things he can say!"
Paula: "I've actually got my 30th birthday coming up in mid April – I was pregnant at my wedding and now I'm pregnant on my 30th! So on Easter weekend, I'm going to a spa with some girlfriends to celebrate. It's just one night because I want to spend time with the family as well. I'm looking forward to that – it's been ages since I've been able to have a facial and some girly treats. "
Thank you for signing up to Whattowatch. You will receive a verification email shortly.
There was a problem. Please refresh the page and try again.