Will Leanne become the sixth Mrs McD? 'I don't want Steve to marry again,' says Coronation Street's Simon Gregson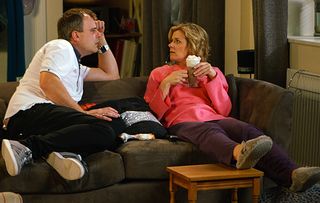 (Image credit: Mark Bruce)
Coronation Street's Simon Gregson reveals how Steve McDonald decides to propose to Leanne Battersby!
Just call Steve McDonald the Henry VIII of Coronation Street! He's got it in mind to make Leanne Battersby his sixth missus, following in the footsteps of Vicky Arden, Karen Phillips (twice), Becky Granger and Michelle Connor.
"Steve's decided he wants to wed Leanne because she's a very good mum to their son, Oliver," Simon Gregson told Soaplife. "She's a good person and he also always tries to do right by his children. It's why he proposed to Tracy Barlow, Amy's mum, even though he didn't love her!"
Has this marriage idea come to Steve out of the blue? "He and Leanne have been having a laugh together lately and they're getting on really well, so he starts thinking about it and kind of asks himself, 'Why not?' They make a good team. They're trying the controlled crying technique to get Oliver to sleep at night. Leanne's a bit too soft at first and Steve's the hard one, but then it's the other way round."
How does Steve justify the idea of marriage to Leanne? "He says they get on, they have a child together and they make a good team, so why don't they go for it? It's hardly the most romantic proposal. To be honest, there's not a lot of sexual chemistry between Steve and Leanne. It obviously worked once, but it's not really there now, which is going to make a marriage tricky."
What does Leanne say to the proposal? "She's absolutely stunned by the idea. She really hasn't been expecting it. You'll have to wait to see whether she accepts."
What about Michelle? "It comes as a bit of a shock at first, but she's then OK with it. She's still fuming with Steve, but she's happy with Robert Preston."
How is this storyline likely to pan out? "It will go quite well purely because Jane Danson [who plays Leanne] and I just enjoy working with each other so much. I think this comes across in the scenes, so there's a lot of scope in the future. It's about time Steve had some happiness. Maybe this could be it!"
Do you fancy another screen wedding? "No! They're no fun to film. There are just too many people involved in a small space and they take days. So, no, I'd prefer Steve not to marry again. Plus, they always film my screen weddings in the winter!"
Coronation Street, ITV
Get the latest updates, reviews and unmissable series to watch and more!
Thank you for signing up to Whattowatch. You will receive a verification email shortly.
There was a problem. Please refresh the page and try again.