'Caz is so damaged, but she still thinks she can make everyone like her', says Corrie's Rhea Bailey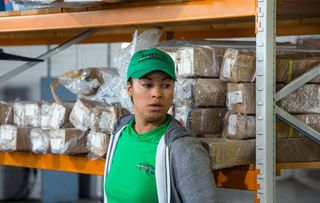 (Image credit: Mark Bruce)
Aidan Connor spots Caz working at a client's factory. Is this the get out of jail card for Maria? Corrie star Rhea Bailey reveals all the latest on the storyline
Crazy lady Caz Hammond has gone AWOL so everyone will think Maria has done away with her. Poor Maria is now in the nick on suspicion of murder, but could the truth be about to be revealed? Former star of The Bill Rhea Bailey has the story...
Why has Caz embarked on this reign of terror against Maria? "In her mind she's been rejected by everybody – her family, the army, Kate... When Maria, who had been very kind to Caz, started losing patience with her, it was the straw that broke the camel's back. In her head, she's thinking, 'You have hurt me and now I'm going to hurt you'. She doesn't see her behaviour as unreasonable – she's very damaged."
But isn't framing Maria for murder rather extreme? "Any lies she's told, even having Maria burgled, achieved what she wanted so she decided framing Maria for murder would get people's attention. She's tried to do positive things and even tried to help when the explosion happened, but nobody thanked her. Nobody said, 'You were so great. You're the only woman who helped lift that car'. So she vowed to do the worst thing she could think of."
So there's no guilt about Maria? "I don't think she feels any guilt at all – it's all about getting attention. In her head she still thinks she can make everyone like her at the end of all of this."
Aidan spots Caz alive and kicking at a factory he visits… how does Caz react? "She just knows she's got to get away from him and try to disappear again. She can't think about anything else."
Will she be redeemed or is Caz destined to get her comeuppance? "It's so much more exciting to have a baddie out and about, but I think, long term, it would be better if Caz were redeemed. I don't know how, though."
How will Caz cope if she ends up in prison? "I think she'll be OK – she's used to having a strict structure to her life. She'll find herself a new girlfriend and it will be like the new Orange Is The New Black!"
Get the What to Watch Newsletter
The latest updates, reviews and unmissable series to watch and more!