'Sarah thinks the gun's a toy, until Callum's face tells her it's real!' reveals Corrie's Tina O'Brien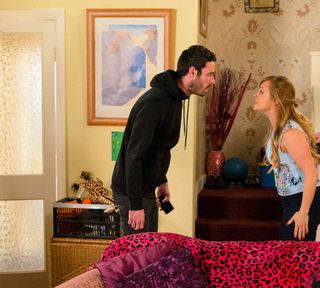 (Image credit: Mark Bruce)
When a gun comes into play, Coronation Street's Sarah finally sees Callum for the dangerous thug he really is, Tina O'Brien tells Soaplife.
Sarah has resisted all efforts by Kylie (Paula Lane (opens in new tab)) and David (Jack P Shepherd (opens in new tab)) to convince her that Callum is mad, bad and dangerous to know. But she can't ignore the ugly truth about her lover when his young son, Max, finds a gun at Callum's flat.
"Initially, Sarah thinks it's a toy… but the look on Callum's face tells her it's the real thing," says Tina. (opens in new tab)
How scared is Sarah when she realises the gun is real?
"She's petrified. Callum [Sean Ward (opens in new tab)] gets the gun off Max, but he's really nonchalant about it, making out it's not that big a deal. He accuses Sarah of being over-dramatic."
But she doesn't buy his Mr Cool act, does she?
"Sarah can't believe Callum can be so blasé, but it makes her realise that all this is normal to him. It's a big realisation for Sarah. She tells Callum, 'This might be the world you live in, but it's not mine'. She dumps him there and then."
Bet he doesn't like that…
"He's quite nasty and makes it very clear that Sarah didn't mean as much to him as she thought she did. He tells her she was just a bit of fun and that he was using her to get Max back because it would look good in the courts."
Ouch! How does Sarah feel?
"That tops off a really terrible afternoon for Sarah. Before Callum arrived at the flat, his sidekick, Gemma [Dolly-Rose Campbell (opens in new tab)], had turned up and she'd been beaten black and blue. That was frightening, especially when Gemma hinted she knew secrets about Bethany and Callum."
And they're secrets Callum gleefully reveals to her, aren't they?
"It's awful. Sarah's really frightened for herself and her daughter. Callum's very controlling, manipulative and nasty - he's got pictures of Bethany [Lucy Fallon (opens in new tab)] with drugs and wants to use them against Sarah. For the first time, she sees the side to him that everyone's warned her about."
Is she aware of Bethany's attachment to Callum?
"She hasn't got a clue. Callum tells Sarah he hasn't laid a finger on Bethany. He really plays it down. But Sarah doesn't know what's been going on behind closed doors, or how Bethany feels about Callum."
Is Sarah brave enough to stand up to Callum?
"That's a hard one! She knows he's got a gun so he's capable of doing bad things. I think she wants to stand up to him, but she's very concerned about her daughter. This is why she decides not to tell her family the reason why she's finished with Callum or what he's done."
Will she regret that?
"She's worried sick about some harm coming to Bethany. Sarah's in a quandary as to how to handle the situation, but her priority is making sure Bethany stays away from Callum."
Coronation Street (opens in new tab), ITV.
Get the latest updates, reviews and unmissable series to watch and more!
Thank you for signing up to Whattowatch. You will receive a verification email shortly.
There was a problem. Please refresh the page and try again.