Corrie's Rob Mallard: 'Daniel is shocked that Sinead's pregnant, but he sees it as a way to keep her close'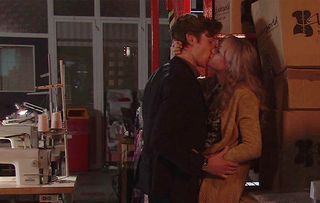 One minute Daniel Osbourne is a virgin, the next Sinead Tinker is carrying his baby! Rob Mallard reveals what that means for the couple
Daniel Osbourne was a very happy young man after he got to grips with machinist Sinead Tinker in the storeroom at Underworld. He'd started the evening as a virgin and finished it as her new lover. But things move too fast for both of them when Sinead discovers she's pregnant!
In their rush of passion, they both forgot that it only takes one session of unprotected sex to make a baby. Now what?
"Daniel's really shocked at first, but then he sees it as a way to keep Sinead close," Rob Mallard told Soaplife. "He doesn't intentionally mean to be calculating, but the first thing he thinks is, 'A baby means Sinead will be with me for ever'!"
So Daniel thinks Sinead is 'the one'? "Yes. She's his first proper girlfriend, but they make a good couple. Sinead [Katie McGlynn] calms him down a bit and mellows him out. He sees her as an innocent. He's experienced hurt, pain and bad things in this world and he wants to protect Sinead from that. He also likes the fact that she's very creative."
What kind of dad would Daniel make? "Quite similar to Ken [William Roache] in the way he'd want to give his child the life he never had. Ken's pushing Daniel to go to Oxford and do the things he feels he never had the chance to do and Daniel would be the same. Daniel's had such a lonely childhood, so I feel he'd go completely the other way and spoil his child. But he has to learn about relationships, too. He can't just make all the decisions by himself. And he needs to rein in his temper."
Yes, that temper. He's angry with Chesney again, isn't he? "Chesney [Sam Aston] sparks their latest scrap by selling Sinead's clothes for just a pound an item. The brooch Sinead's grandma gave her is sold, so Daniel gives her a necklace of his mum's. By giving it to her, he's saying, 'I've given you this thing you know is important to me so you know I won't leave'.
"Daniel sees Chesney for what he is. He doesn't think Chesney can offer Sinead what she needs and he feels they're mismatched. He doesn't think Sinead has acted badly or that he took her off Chesney. In Sinead's head, it was over with Chesney before she got together with Daniel."
What does the future look like for Daniel and Sinead? "Sinead's seen Daniel as a lifeboat and she's jumped straight from one relationship to another. Her mellow attitude has rubbed off on Daniel, so it'll be interesting to see if Daniel's fiery side rubs off on her."
Coronation Street, ITV
Get the latest updates, reviews and unmissable series to watch and more!
Thank you for signing up to Whattowatch. You will receive a verification email shortly.
There was a problem. Please refresh the page and try again.