'Tracy thinks Daniel has secrets,' says Corrie's Kate Ford. And she's right!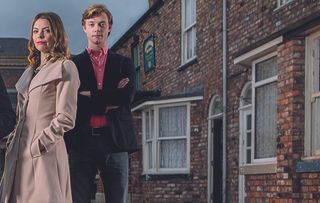 (Image credit: Joseph Scanlon)
Suspicious Tracy uncovers a Barlow family secret and predicts more trouble ahead, as Corrie's Kate Ford tells Soaplife
Ken Barlow needs peace and quiet to recover from his stroke, but that's the last thing he's going to get as the newly extended family constantly clash. Kate Ford tells Soaplife about Tracy's role in the power struggle going on within the clan
How's Tracy feeling in the wake of Ken's stroke? "Apart from when she lost her mum, Tracy has never felt this vulnerable. She's terrified and she really wants to look after Ken [Bill Roache]."
Does she still blame Peter for the stroke? "Yes, but she's warming to having him back. Like Tracy, Peter [Chris Gascoyne] has suspicions about Daniel [Rob Mallard] so they bond over this and they become a unit again."
What does she think of Adam and Daniel? "There's a power struggle going on. There's a lot of testosterone flying around, but Tracy's more than a match for her brothers and nephew. She thinks Adam [Sam Robertson] is cool because he's loaded and really smooth, but she thinks Daniel's really uncool. She calls him Harry Potter."
Why is she suspicious of Daniel? "She thinks he has secrets and she reckons he owes money to somebody. Peter and Tracy both agree Daniel's hiding something and they vow to find what it is."
And Tracy does discover something… "She pinches the keys to Daniel's flat. She goes there and discovers there is no woman stuff at his flat. It's at this point she realises he's lied about living with his mum."
What happens? "There's a big row. Daniel's furious with Tracy, then Adam finds out his car's been stolen. Tracy believes Daniel's taken the car so the Barlows grab him in the street, take him to Roy's Rolls and interrogate him until he breaks. Finally, he reveals his mum left him years ago and he's been living alone."
How does Daniel deal with the drama? "He's quite self-possessed. He doesn't apologise, but he just states the facts. Apart from Adam, the Barlows feel sorry for him."
Is Tracy prepared to make peace? "Kind of, but she's still a bit narky with him. She's sorry for him because his mum left him, but she also thinks he's a freeloader. It annoys her Ken keeps paying out. Tracy's working really hard at the florists, but Ken keeps buying Daniel dinners. She never sees Daniel put his hand in his pocket."
Can she get used to having Adam and Daniel around? "It's nice for Tracy to feel part of a proper family again. She's missed that since Deirdre passed away, but there's potential for lots more arguments."
Coronation Street, ITV
Get the What to Watch Newsletter
The latest updates, reviews and unmissable series to watch and more!