Will Sophie's exit from Corrie be in a coffin after Caz kills her for kissing Kate?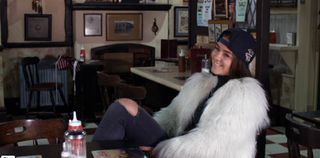 Coronation Street star Brooke Vincent has been talking about what happens after Friday night's episode (April 1), when she saw Kate in her wedding dress and we all saw that she's fallen for her.
Kate's girlfriend Caz (Rhea Bailey) phoned and broke the "moment" between them – and she wasn't at all happy when she realised Sophie was with Kate (Faye Brookes)…
She'll be fighting mad if she hears Kate telling Sophie she dreams of not turning up for her own wedding in next week's episodes.
"I've had the dream like 20 times," Kate said.
"But you love Caz, don't you? You're besotted with her, aren't you?" Sophie asked.
"Yeah," said Kate, unconvincingly.
"Kate wants a bit of the old Soph-meister, yes she does!" says Brooke in a Corrie interview.
Corrie's Brooke talks about the drama to come for her character Sophie
And that becomes very clear next week.
"Caz knows you and me are, like, mates, doesn't she?" Sophie says.
"Oh, yeah, yeah, yeah, just mates," Kate says quickly – not looking sure about being "just mates" at all.
"So Kate and Sophie's little friendship seems to be developing," adds Brooke.
Sophie can't resist Kate any longer
"We'll see how long your engagement lasts, Caz!"
We wouldn't let Caz hear you talking like that! She returns to the Street and she goes straight for Sophie…
"To be fair, Sophie does take a step back. She makes the effort to be friends with Caz," says Brooke.
But Caz is having none of it, as viewers will see.
"Just keep your distance, okay?" Caz says, definitely not in a friendly manner.
"Caz, me and Kate are just friends," Sophie insists. "You've got it so wrong."
Caz warns Sophie to back off – or else!
"Shall I spell it out?" Caz says, getting right up in Sophie's face. "Don't mess with me or you'll know about it."
"Caz doesn't like Sophie," says Brooke.
That's an understatement.
Caz is a trained soldier and has threatened her. Sophie should be wearing blinkers around Kate from now on!
Especially after Kate postpones the wedding and causes chaos.
"I still want to marry you one day," Kate tells Caz. "It's just that at this moment in my life I'm not ready."
"Sophie goes to see Kate, to see if she's okay," Brooke reveals. "And then all the tension and the emotions take over them both and a bit of a kiss happens…" (on Thursday, April 7).
So busted! Sophie and Kate are caught kissing by Caz
And Caz sees it!
"Obviously, with this kiss, there's a lot more drama," Brooke says.
Hope Sophie's got a bullet-proof vest! We have a horrible feeling her attraction to Kate could prove fatal.
We know Brooke will be leaving the soap in a few months. It's not supposed to be a permanent exit – but Caz' could change all that…
Coronation Street, ITV.
Get the What to Watch Newsletter
The latest updates, reviews and unmissable series to watch and more!