Why are Matt Damon and Bill Murray laughing at Downton star Hugh Bonneville? (VIDEO)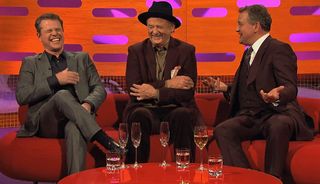 As Graham Norton's chat show returns to BBC1 in the same week as Downton Abbey returns to ITV, we thought you'd enjoy watching the moment Downton star Hugh Bonneville caused Hollywood stars Matt Damon and Bill Murray to nearly laugh themselves off Graham's sofa when they appeared on his chat show together last February.
"It was one of those perfect shows where the three guys obviously adored each other," Graham told the Daily Express. "It was so much fun. At the end, we all wished it had been the last show of the season so we could go out on a high."
Hugh, Matt and Bill Murray were promoting their film The Monuments Men, but the conversation was turned by Graham to Hugh's appearance on another TV show.
Just the sight of Hugh was hilarious to Matt and Bill. But why? Watch the video below and you'll see…
Downton Abbey returns to ITV on Sunday, September 21, 9.00pm.
The Graham Norton Show returns to BBC1 on Friday, September 26, 10.35pm.
http://youtube.com/v/CfEVLzd5j7Q
Get the latest updates, reviews and unmissable series to watch and more!
Thank you for signing up to Whattowatch. You will receive a verification email shortly.
There was a problem. Please refresh the page and try again.