EastEnders fans loving gleeful Sharon reaction as Keanu whips his top off!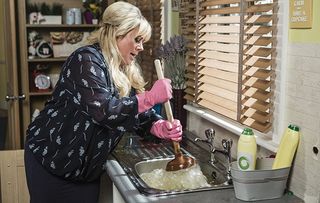 (Image credit: BBC / Gary Moyes)
EastEnders viewers relish scene between Sharon and Keanu where he takes his top off and Sharon starts making dodgy jokes about how it's like a scene from a fruity 1970s movie!
EastEnders fans adored the look of pure pleasure on Sharon Mitchell's face as Keanu Taylor whipped his top off in a saucy sink plunging scene.
As Sharon, armed with garish pink washing up gloves, gets to work on the sink with a plunger, Keanu (Danny Walters) headed under it to take a look, but ended up getting soaked.
"Take your top off," is Sharon's gleeful solution – and, well, let's just say she doesn't seem disappointed by what she sees - and neither were many viewers!
"Sharon trying to flirt with Keanu she's like a kid in a sweet shop the eyes want what I see," laughed one fan."More topless Keanu scenes please," said another. "Lol Sharon eying Keanu," tweeted another. "Woo I'm with Sharon on this one," commented another.
Viewers also loved it when Sharon (Letitia Dean) started making references - completely lost on poor Keanu - to dodgy films where a handy man comes around to see a bored housewife and things, erm, begin to get steamy!
"It's like one of those 70s films, Confessions of a Housewife and a Handy Man," smirked Sharon, who was clearly hoping that it might turn into one of those movies!
So the question now is does this pave the way for an affair between Sharon and Keanu? Does Keanu share Sharon's desire?
Hmmm.... EastEnders continues on BBC1.
Get the latest updates, reviews and unmissable series to watch and more!
Thank you for signing up to Whattowatch. You will receive a verification email shortly.
There was a problem. Please refresh the page and try again.