EastEnders shock attack: has Bobby just killed Jane?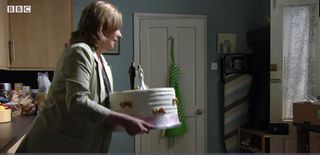 As soon as Jane Beale (Laurie Brett (opens in new tab)) picked up that wedding cake towards the end of last night's EastEnders, you knew the cake wasn't going to make it out the door to Stacey and Martin's wedding reception…
But what Bobby did to Jane was a total shock.
Bobby (Eliot Carrington (opens in new tab)) was secretly packing his things, ready to run away back to the posh school he's come to love, but that his parents can't afford to send him to any more.
Jane was taking Stacey and Martin's wedding cake to their reception, but never made it out the door
Jane found Bobby and, well, what happened next was horrifying.
And the violence was sickening…
"You've ruined my life!" Bobby shouted at Jane, as she tried to explain why he couldn't go back to school.
"I'm going!" he added – and Jane rushed after him and dragged him back into the house.
"You can't tell me what to do! You ain't even my real mum!" Bobby spat at her.
Bobby got that look on his face, the one that meant someone would suffer…
Oh, that hurt Jane; really stung. But it was nothing to what her adopted son did next…
Jane got on the phone to Ian (Adam Woodyatt (opens in new tab)) to "sort out" Bobby.
But Bobby wasn't having that, either.
He picked up that hockey stick he's become so attached to and he whacked her over the back of the head, not once, not twice, but three times…so hard that Jane's blood spattered all over the wedding cake.
You could almost hear the gasps of horror in the living rooms up and down the country.
The wedding cake sat spattered with Jane's blood
Even die-hard EastEnders fans were shocked by the graphic scenes…
"Game of Thrones was violent tonight!" tweeted one viewer. "Oh no…wait. That was @EastEnders."
And another tweeted: "A bit violent for pre-watershed."
"That shouldn't have been shown this early! Horrible, disturbing ending!" tweeted another.
In Monday night's episode, viewers will see Bobby kneeling over Jane's lifeless body, her blood all over his hands.
Bobby kneels over Jane's bloodied, lifeless body
Has he killed her the way he killed his sister, Lucy?
Even if Jane lives, we reckon Bobby won't get away with this sickening, violent attack on his mum… And we reckon he'll finally be brought to justice for killing Lucy, too.
We all know that Max Branning (Jake Wood (opens in new tab)) is due to return to EastEnders this summer and we reckon the only way he can be released from prison is for his conviction for killing Lucy to be quashed… Which means the real killer will be caught.
And what would that mean for Ian, who has covered up the truth about Bobby killing Lucy?
The heat is really going to be on the Beales this summer, we reckon!
EastEnders (opens in new tab) continues on BBC1, Monday, May 21, 8.00pm
Get the What to Watch Newsletter
The latest updates, reviews and unmissable series to watch and more!