Hayley revealed as Stacey's cousin! 'We're Slaters ain't we!'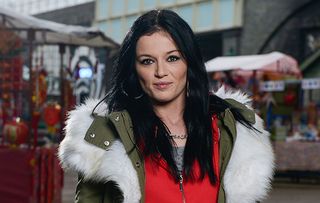 (Image credit: BBC / Kieron McCarron)
Martin's "admirer" is firmly on team Slater
EastEnders finally confirmed tonight what fans have been suspecting for weeks – newcomer Hayley is, indeed, a member of the Slater family.
The truth was revealed after the brunette had spent the afternoon with Martin Fowler, along with his daughter Hope and stepson Arthur. When the fruit and veg peddler failed to return the children to Stacey at the agreed time – thanks to Hayley's influence – he was confronted by his estranged wife and two police officers.
Stacey then returned home, and it wasn't long before Hayley came calling. "Dun good, didn't I?" she said to the troubled mum, as it became clear that the two women knew one another, and Hayley's "affection" for Martin had been part of a plot to help Stacey get custody of her kids.
The exact nature of their relationship was then cleared up as Hayley made to leave. "We're Slaters ain't we," she said. "Fight dirty when we have to - there ain't no shame in that," before adding "See you, cuz!"
EastEnders' Creative Director, John Yorke, announced back in December that a new Slater would be heading to Albert Square in 2018, along with established Slater characters Jean, Big Mo and Kat.
Speculation that Hayley (Katie Jarvis) was the mystery Slater in question began when she first arrived in Walford on 9th February. The newcomer secretly took photos of Martin and Stacey arguing, then answered a phone call in which she referred to Martin as a "wretch" and told the caller she knew "exactly what to do next."
Further clues then pointed towards a connection between her and Stacey. In the episode airing on 22nd February, Hayley whispered something into Stacey's ear, whilst in last night's instalment of the BBC1 soap, Hayley visited Stacey at home.
That the character was not previously given a surname added fuel to the theory that she was part of the Slater clan. In tonight's closing credits, she was no longer listed as just "Hayley" but was given her full title, "Hayley Slater."
Welcome to the faaarmly!
Get the latest updates, reviews and unmissable series to watch and more!
Thank you for signing up to Whattowatch. You will receive a verification email shortly.
There was a problem. Please refresh the page and try again.