Janet's a Nativity natural as the festive celebrations start on EastEnders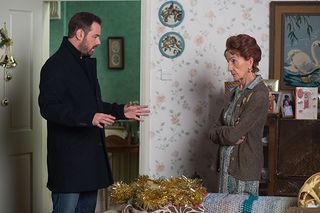 (Image credit: BBC/Jack Barnes)
With the festive season fast approaching, Mick (Danny Dyer) is on a mission on EastEnders (opens in new tab) when he asks Dot (June Brown) to let Linda's mum, Elaine, help out with the auditions for the Square's Nativity play.
As Mick pleads with a reluctant Dot, who knows only too well how overpowering and interfering Elaine (Maria Friedman) can be, she eventually does the neighbourly thing and agrees. Has Dot made a big mistake or will Elaine bring some Christmas cheer to the production?
With Mick's mother-in-law-to-be on board, who knows if it will lead to a happy Christmas or a festive farce, but the show must go on, as they say…
Dot doesn't look overly impressed when Mick turns up to ask the favour about Elaine helping out with the local Nativity play. This will take some convincing…
Delighted Mick is both relieved and grateful when Dot half-heartedly agrees to let Elaine help with the auditions and organisation of the play
As Elaine makes herself comfortable round at Dot's for the auditions, her over-enthusiastic input doesn't make for a silent night, and Mick is forced to mediate and make a decision when Elaine turns down youngster Janet for the play, as she thinks she's too old, but Dot firmly disagrees!
Mick decides Janet should be in the play and her mum, Honey, is over the Moon when she learns Janet will be playing the part of Angel Gabriel. But apprehensive dad Billy is concerned the role might be too big for Janet and declines the offer
When Elaine steps in, yet again, this time she takes a supportive stance, and lifts spirits by convincing Billy that Janet has star quality and will fly high in her role as the angel
So it seems Elaine was the right person for the job after. But will everything else run as smoothly in the Square during the festivities or will it turn out to be a fright Christmas for the residents?
Watch EastEnders on BBC from Monday, December 7
Thank you for signing up to Whattowatch. You will receive a verification email shortly.
There was a problem. Please refresh the page and try again.