'I was thrilled when I heard my husband would be Chris': Maggie Steed and Christopher Timothy join EastEnders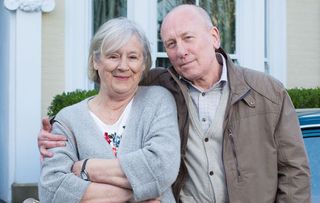 Highly respected actors Maggie Steed and Christopher Timothy talk about joining EastEnders as Ted and Joyce Murray
EastEnders will welcome two veteran stars of stage and screen when Maggie Steed and Christopher Timothy join the cast on Friday, May 27, to play Joyce and Ted Murray.
The couple have been married for nearly 60 years and although the Murrays have lived in Walford all their life, their move to Albert Square is not solely their choice as they're being rehoused from a nearby estate.
Although the move is a big upheaval for them, the Murrays are not complete strangers to those in Albert Square as they already know the legendary Dot Branning.
Maggie said: "I am very much looking forward to having Christopher as my on-screen husband, he is a terrific actor. We're going to have lots of fun. I'm incredibly excited to be joining what is such a well-established show."
All Creatures Great and Small star Christopher added: "The most exciting thing about joining EastEnders is not only that I'll be back on the television, but I'll also be working with Maggie. I have admired her for a long time. She is one of my favourite actresses..."
The actors told us more about joining EastEnders...
How did the role come about, Chris? "My agent looked at the character breakdown for Ted, sent by EastEnders Casting Director, Julia Crampsie, and he said what about Christopher Timothy? I knew Julia before because she's seen me in several plays that my agent has brought her to, so she knows who I am. And she said, I'm delighted to say, 'he's not old enough is he?' My agent told her how old I really am and she said 'oh', and I had an interview with her and Sean (O'Connor) who I really liked, and I got the job.
"They asked 'have you got any questions?', and I said 'who's playing Joyce?' They said 'it hasn't been decided yet' and one of the writers, when I did know it was Maggie, said 'I've known for days and I knew you'd be pleased'."
Have you worked with Maggie before? "No, but she has a place in my heart after Shine on Harvey Moon. I thought it was great anyway, and I thought she was really special, and I've seen her in other things of course. I've just always admired her. I think she's fantastic, so when they said it was Maggie I was over the moon of course. And the bottom line is to do with us both being old school and I knew that, so I knew that even if we ended up not having anything in common we'd have that in common, when in fact we get on really well. It's great."
Maggie, has it been nice joining the show with Chris? "Completely yes, it really is very nice to come in with somebody else because those characters have got their own history together, and more importantly, it's very, very nice to come in with someone like Chris because we've got a lot in common and we respect each other a lot. So that's a saviour, really, because if you didn't have someone like that you really wouldn't be in with much of chance. We get on very well and we rely on each other a lot. I was thrilled when I heard it was Chris."
When was the first time you saw each other after being cast? "It was the day we came in to meet Steve Finn the Director and read the first few scenes in our first episode together. I'd never ever met Maggie before and I walked into this reception area and this very quiet voice said 'Chris'."
"Everyone has been unbelievably welcoming, without exception. I've experienced that before, but never in quite a large number of people. It feels like a family, but that's the integral thing about EastEnders and I hear from people who've done it they're a great bunch, and they are."
Can you describe Ted, and his relationship with Joyce? "He's 80 years' old, and Ted and Joyce are solid in their relationship. They've been married for a long time, nearly 60 years, so their big anniversary is coming up. I think they're very normal and I would think what they are is hugely identifiable. A lot of people will recognise them and recognise Ted and Joyce and say, 'yeah my uncle so-and-so is like that', or 'grandad's like that isn't he?'
"They're quite affectionate in fact and so they take the rise out of each other, but then I think that's what every marriage is like – there's a sense of humour underlying and you have your ups and downs, but actually everything's fine.
"I like him, and I like Joyce, which is vital, otherwise you wouldn't be able to play them very well I suspect."
Maggie, how would you describe Joyce? "I think she's a very good woman. She's quite determined in her own way, she's very soft hearted. She adores Ted. She can get worried and frightened about things, but I think when push comes to shove she can be pretty strong as well."
Joyce wasn't keen on being rehoused to Albert Square... "No, absolutely not, they've been living in this council block since the '60s and loved it because obviously moving in then from probably where you had an outside lavvy and that sort of thing, it was sort of heaven. They brought their kids up there and so they had lots of memories and then it was going to be just pulled down. It's a big thing to have to up-end at that age and go somewhere else and make a home. It's a very big thing."
Did you know any of the cast? "I know Jenna (Russell, plays Michelle Fowler), we're old friends. We were in a series called Born and Bred together for the BBC about 15 years ago. So we've been mates for years, so that's lovely, very nice. I know Ian Lavender (plays Derek Harkinson) as well, actually, from drama school from a very long time ago, so that's funny."
What was it like walking on set and coming into such an iconic show? "It's always strange walking into a set that you recognise so much, but you very soon get used to it is all I can say, and then you just carry on."
Chris, did you know any of the cast before you started? "I knew Bonnie Langford before although we'd never worked together. I met Natalie (Cassidy) at a BAFTA Awards quite a few years ago and I thought she was exceptionally good. I think there's something very special about her and I actually went up to her and said 'I hope you don't mind but I think you're great in EastEnders'. I like the way she works and her whole work ethic."
Did any cast give words of advice? "One cast member said it's not a question of learning your lines it's a question of remembering your lines. I thought that was quite clever."
Will you be watching when your first episode goes out? "I expect so. I'll watch it with Annie (Christopher's wife) but only because I'll want Annie to say, 'yes that's good' or 'why are you doing it like that?' We shall see what the people think. You're only as good as what you did last. I haven't got less nervous as I get older, but I'm really enjoying it."