Nick Cotton dies – and this time it's for real!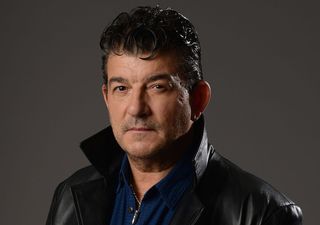 (Image credit: BBC/Kieron McCarron)
Last year, Dot was devastated when Charlie, the grandson she never knew about, turned up on her doorstep and revealed that his dad, Nick Cotton, had died. So she got a big shock a couple of months ago when she found her evil offspring loitering about her hallway.
But in last night's episode of EastEnders, millions of viewers saw Nick bumped off for real and all at the hands of his dear old 'ma'.
Earlier in the week, Nick, who's been hiding out at the Moons' burnt out house, was suffering the effects of withdrawal from heroin so he asked Dot to get his next fix. She got the drugs but thought better of feeding her son's addiction so put them in the bin. Later, however, she retrieved the drugs and gave them to Nick.
Dot begged Nick to confess to the police that he sabotaged the car that crashed and putting his daughter-in-law Ronnie Mitchell into a coma, but was shocked when he said: "I hope Ronnie Mitchell knows exactly what's happening to her. I hope she rots."
Finally realising just how evil her son is, Dot replied, "God forbid me. If there's any justice in this world that drug will choke you."
After taking the drugs, Nick realised they weren't pure and begged his mum to send for an ambulance. Dot ran home and grabbed the phone, but after hearing Charlie and her grandson crying, she decided to leave the fate of her son in the hands of a higher entity.
Returning to Nick's hide-out, Dot told him, "I ain't called the ambulance. I prayed to let Jesus decide whether you get better or whether the world was a better place without you."
In his dying moments, it seemed that Nick had a genuine moment of regret as he croaked: "I'm sorry, ma. For everything I ever put you through. Forgive me."
Watch the demise of Walford's most notorious villain here.
Get the What to Watch Newsletter
The latest updates, reviews and unmissable series to watch and more!