Will Peggy return to EastEnders? 'Well, she came back for the live ep!' says Barbara Windsor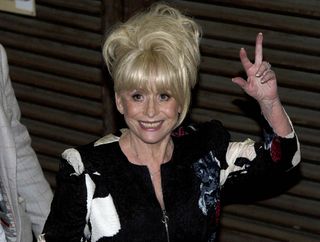 (Image credit: PA Wire/Press Association Images)
Barbara Windsor (opens in new tab) talks to Soaplife about working with Tim Burton, meeting Johnny Depp and returning to EastEnders (opens in new tab)…
So, could Peggy Mitchell be returning to Albert Square?
"Well, she came back for the live ep, didn't she? I loved doing that. The producer said, 'We need more people like Barbara Windsor – she arrives on time and she's always learned her lines'. Apparently they're saying that working with Bonnie Langford (opens in new tab) is rather like working with me because she's always punctual and knows her lines, too."
Do you still love EastEnders?
"With a total passion. I always keep my eye on it. Danny Dyer (opens in new tab) is surpassing himself. He's created this wonderful character, a sweet man who's like a bloke from the 1950s."
What are you working on at the moment?
"I'm doing the voice of the dormouse in the film Alice Through the Looking Glass (opens in new tab), Tim Burton (opens in new tab)'s sequel to his Alice in Wonderland movie. I voiced the dormouse in the first film and it's flattering to be asked to do the sequel. Tim is just the nicest man – so sweet and charming and he's a fan of mine, would you believe?!"
Johnny Depp (opens in new tab) plays the Mad Hatter in the films… Have you met him?
"Not while recording my vocals, but I did meet him at the Royal premiere of the first film. I've been in this business a long time, but I was still a bit star-struck to meet him."
Has any other star struck you like that?
"Meeting Paul Newman (opens in new tab) on Broadway in New York was something I'll never forget. It was 1964 and I was performing in Oh What a Lovely War on stage, and he came to see the show. Afterwards he asked to meet me, but I couldn't talk to him normally. I went all shy and silly, and I asked for his autograph for my mum and my Auntie May. He'd seen my 1960s film Sparrows Can't Sing (opens in new tab), and he said, 'I love your baby carriage movie'. I looked into those blue eyes and was lost!"
Get the latest updates, reviews and unmissable series to watch and more!
Thank you for signing up to Whattowatch. You will receive a verification email shortly.
There was a problem. Please refresh the page and try again.