'You're either brave or stupid,' Babe tells Les and Pam in EastEnders. But what have they done?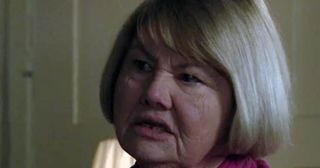 Blackmailer Babe Smith continues to push the Cokers to their limit in EastEnders. Can anyone stop her?
Friday night's EastEnders saw Pam Coker (Lin Blakley) attempt to fight back against twisted blackmailer Babe Smith (Annette Badland). And Monday night's upcoming episode will show how Babe reacts.
And here's a hint: Babe doesn't back off.
When funeral director Les Coker's (Roger Sloman) wife Pam was confronted on Friday by Shirley Mitchell (Linda Henry) over the high cost of Peggy's funeral, Pam nodded at Babe and told Shirley:
"Well, if there is a problem with the price, you're looking at it right there."
Les and Pam have had to put up their prices to pay off Babe and stop her revealing Les's secret identity as Christine, the woman he becomes when he wants to escape being himself.
But on Monday they're going to find out that involving Shirley might not have been a smart move.
Babe sits down with them both, to make her position clear…
"I don't like lying to Shirley," she tells Les and Pam. "I had to tell her."
And they look quite ill, thinking Shirley also knows about Christine now.
But then Babe laughs nastily and says, "Fooled you!"
"Shirley did question me in front of everyone," Babe adds. "But I made up some cock and bull story that should hold her off – for now.
"You want to be careful, mind. Loose lips sink ships."
"You are an evil woman," Pam told her, quietly.
"At least I'm not sick in the head!" Babe spat back.
And poor Les recoils from her venomous words.
"And a thief to top it all," Babe continues. "Ripping off the Mitchells… You're either brave or stupid."
But if the Mitchells knew the full story, we reckon it would be Babe who would be running scared.
Now, who could drop Babe right in it? We think Paul Coker (Jonny Labey) might be the man for the job.
EastEnders continues on BBC1, Monday, June 27, 8.00pm.
Get the What to Watch Newsletter
The latest updates, reviews and unmissable series to watch and more!