Behind the scenes on Emmerdale's zombie horror car crash!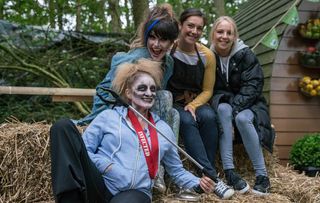 Behind the scenes pictures of a spooky stunt that took place at Home Farm
Take a peek behind the scenes at Emmerdale as a car crash is set to leave lives of favourites such as Victoria, Belle and Lawrence in danger.
We went on set to for a closer look at the zombie apocalypse…
The story goes that Lachlan is hosting a 'zombie run' on the Home Farm estate and has enlisted various locals to help. Meanwhile back at the house, Lawrence, who's just got out of hospital, has been drugged by Robert!
When the businessman comes to, he's freaked out by the noise and screams of the event occurring in the grounds. As addled Lawrence heads out to investigate, he takes his car, not realising he's unfit to drive.
Sure enough, the car screeches out of control and as it careers through the event, lives are threatened!
It's serious stuff – and is set to look scary on screen. But how did it look behind the scenes?
Laura Norton's character Kerry has been roped into help Lachlan. She had no trouble getting into character!
Actors Eden Taylor-Draper (Belle) and Thomas Atkinson (Lachlan) prepare to rehearse the beginning of the crash scene.
Victoria is very much in the firing line. Actress Isabel Hodgins is talked through the scene by director Matt Hilton, who's shooting his first ever stunt!
Isabel has a stunt double, played by Josie Forman, who's been dressed to look just like the caterer and will has to leap out of the way of Lawrence's out-of-control car
Zombie extras… they've got all the moves.
During a break in filming, Nicola Wheeler (Nicola) joined Laura, Isabel and Eden took time out on some handy hay bales.
In between takes, a make-up artist touches up Laura's hair. It takes a lot of work to look this bad!
Isabel, meanwhile, is one of the lucky ones as she avoids getting get plastered in crazy make-up.
Actor John Bowe, aka Lawrence, practises his driving.
The car is run through its catastrophic course...
A dummy was used to work out how the car might strike a real person... But who is that person? (Not telling.)
Someone's not getting out alive…
... aaaaaand 'Action!'
Watch Emmerdale on ITV on Tuesday, August 8 and see these scenes play out for real.
Get the latest updates, reviews and unmissable series to watch and more!
Thank you for signing up to Whattowatch. You will receive a verification email shortly.
There was a problem. Please refresh the page and try again.