Jealous Aaron hits out – again – and the police turn up, reveals Emmerdale's Danny Miller!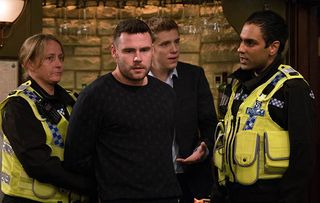 Aaron Dingle's frustrations in his relationship with Robert Sugden lead to violence against Kasim, as Danny Miller explains to Soaplife…
Aaron's got the ring on his finger and Robert has agreed to a Las Vegas wedding, but he still feels desperately insecure about their relationship. Robert's continuing friendship with Rebecca White is driving Aaron to distraction and his jealousy and paranoia threaten to ruin everything.
"He is a poor paranoid lad who can't work out how much Robert loves him," Danny Miller tells Soaplife. "He fears that Rebecca can offer Robert something he can't."
Why is Aaron so jealous of Rebecca? "Robert [Ryan Hawley] has admitted that he kissed Rebecca and that was the start of Aaron's paranoia. He thinks that if it was that easy for them to have a little kiss in the backroom of The Woolpack, then they could easily do it again. Robert slept with Rebecca [Emily Head] behind Chrissie's back, so Aaron thinks he could do the same to him."
Can't he just be happily in love? "He has terrible problems forming attachments. Throughout his life, people have screwed him over and bad things have happened. Trouble always follows him, which is why he finds it so hard to be happy."
Aaron will always be jealous of women who flirt with Robert, then? "Yes, because Robert is bisexual. That will always be a challenge for him."
What makes Aaron want to marry in Vegas? "Charity [Emma Atkins] suggests it and Aaron likes the idea. He also likes the fact that Robert has money, so going away is an option. It will also be pain free and quick. In a way, Aaron wants it all over and done with. He just wants to be married to Robert."
Then Jimmy (Nick Miles) tells Aaron that Robert's been out with Rebecca all morning… "And he's a paranoid mess once again. He just can't let it lie."
But he takes it all out on Kasim! "Kasim [Ethan Kai] gets caught in the crossfire. It's all off the back of a row that sounds homophobic to Aaron. Kasim punches Finn [Joe Gill], but it's only to stop the embarrassment of his dad knowing he is gay. Aaron has had a few drinks and wades in to help Finn. He lays into Kasim and, once he starts, he can't stop because he channels all his anger over the situation with Robert.
What are the consequences of the fight? "Aaron is on licence, so this won't go down well with the police, who turn up."
Do you hope Aaron and Robert stay together? "I do. I'd fear for my life if they broke up as viewers are really behind them! On paper the relationship shouldn't really work, but it does. They have already been through so much and are strong together. I think it would take a lot to split them up now. I would be gutted if the relationship ended."
Emmerdale, ITV
Thank you for signing up to Whattowatch. You will receive a verification email shortly.
There was a problem. Please refresh the page and try again.