Bernice makes a move on Andy in Emmerdale!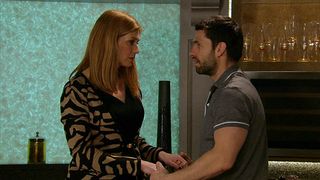 Poor Bernice is in a state after her drunken antics involving a digger on Emmerdale...
Not only is she nursing a sore head thanks to the vast amounts of vodka she managed to sink, but she's also got a broken heart after discovering Ronnie and Lawrence once had an affair and her husband has continually misled and lied to her about his sexuality!
So thank goodness for Andy who proves to be a bit of a knight in shining armour (or at the very least, a kind farmer in a tight-fitting T-shirt!) Not only does Andy shoulder the blame when Rakesh demands to know who's been running amok on his building site, but he also provides Bernice a muscly shoulder to cry on as she pours out all her woes. But is Bernice about to do something else she'll soon regret?
Andy offers his ex lots of kind words when she reveals she's married to a gay man who likes to keep big secrets.
He reassures her that things will get better and he'll do his best to support her....
However, he's a little startled when Bernice moves in for a kiss...
Er, that's not quite the support he hand in mind!
Things get even more awkward when Andy's girlfriend Chrissie arrives on the scene. Did she see the kiss? Oh Bernice, what have you done now!?
Watch Emmerdale on ITV from Monday, June 13.
Get the What to Watch Newsletter
The latest updates, reviews and unmissable series to watch and more!