Bernice steals money from a dead client, reveals Emmerdale's Samantha Giles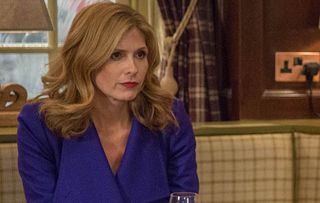 Bernice Blackstock faces a major money dilemma thanks to Nicola King's no-good ways. Samantha Giles explains all to Soaplife…
Bernice Blackstock is not one for breaking the law. But the temptation to cash in a dead client's winning betting slip is immense – and her half-sister Nicola King is egging her on!
What's the story?
"Bernice doesn't want to keep the money," Samantha Giles explains to Soaplife. "She feels very bad about it, but Nicola tries to persuade her by saying the dead Mrs Dumphreys doesn't have any relatives." Will that persuade Bernice to pocket the winnings?
What's happening in Emmerdale? See the latest soap storylines
Samantha Giles reveals all to Soaplife about what happens to Bernice...
Soaplife: Bernice does take the money, doesn't she?
Samantha Giles: "Yes. Nicola says they have to think about their children's futures. Mrs Dumphreys is dead so it doesn't matter. She points out it was only a betting slip anyway. Nobody will be any the wiser."
S: Does that make her feel better about it?
SG: "No! She breaks out in hives because of all the stress. She feels anxious, then the solicitor tells her that they've tracked down a relative of Mrs Dumphreys. Bernice believes in karma and she's worried about the adverse repercussions being dishonest may create."
S: So she wants this mystery relative to have the money?
SG: "Absolutely! She wishes she'd trusted her instincts in the first place and not listened to Nicola."
S: How does she plan to give the money back?
SG: "She goes to the funeral to find out who the relative is and she's surprised to see it's somebody who lives in the village. That comes as a bit of a shock!"
S: Does she tell them about the money?
SG: "No. She decides to set up this rigged raffle. The plan is to give the money to the relative in the form of a cash prize."
S: Will the plan work?
SG: "Jimmy King agrees to help. Then, when it's time to draw the ticket, he decides to do it on his own because Bernice isn't there. Just as he's about to announce the winner of the cash prize, Bernice walks in and interrupts. I can't tell you why, but it's a dramatic moment."
S: What would Bernice do with all that money?
SG: "She'd buy herself somewhere to live for a start. A little flat or something. She's getting fed up living with Diane Sugden."
S: What do you think of this storyline?
SG: "I love the fact it's a little bit quirky, but it also has a serious side. Poor Bernice was very shocked when Mrs Dumphreys died in the salon. She would have had absolutely no idea about the money if Nicola hadn't gone rooting through the old lady's bag."
S: What's in store for Bernice?
SG: "It is about time that she had a love interest. That would be nice, but you'll have to keep watching to see if it happens!"
Emmerdale, ITV
Get the What to Watch Newsletter
The latest updates, reviews and unmissable series to watch and more!