Charity is using Megan to get Frank back behind bars, reveals Emmerdale's Emma Atkins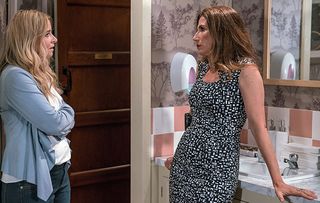 Charity Dingle and Megan Macey joined forces to teach lying, cheating Frank Clayton a lesson. But Charity fears Megan is losing her nerve, Emmerdale's Emma Atkins tells Soaplife...
When Charity Dingle notices Megan Macey soften towards lying, cheating Frank Clayton, she urges her to continue with their plan to frame him for fraud. The plot moves forward, but when Frank dials a number on Megan's phone and gets Charity, the terrible two in are danger of being exposed. "It is sink or swim," Emma Atkins told Soaplife. "Frank says 'Senorita'? because he is expecting to speak to a Spanish woman, so Charity has to think on her feet." And think Spanish!
Why doesn't Charity want Megan to grow close to Frank again? "She's jealous. She can't bear the fact that Megan [Gaynor Faye] and Frank [Michael Praed] have this wonderful connection and she wants to destroy it. Charity can't keep a man herself and is envious of that genuine affection they have."
How do they intend to frame Frank? "They have set up this fake timeshare scenario. On paper it looks like a genuine thing and, initially, they wanted to sell one to Frank. But then people in the village started asking to invest, so they've come up with this idea of making it look as if the whole thing was Frank's idea. They are not actually going to steal anybody's money – but will make it look as if Frank was about to."
And then? "Charity wants Frank to go back to prison. I am not really sure why she hates him so much. She feels he pulled a fast one on her, although to be fair, he really didn't do much. She has definitely got it in for him, though."
Does she fancy him? "Yes and I think she hoped that it would go somewhere with Frank when they had that one night stand. She thinks Frank would be a great scam partner as it's in his blood as much as it's in Charity's."
So, how does Frank come to accidentally dial Charity's number? "Rishi Sharma [Bhasker Patel] tells Frank that the property development firm involved in the timeshare went bankrupt. Frank wants to find out more and calls a Spanish-looking number on Megan's recently dialled list. Charity answers and has to put on a Spanish voice – it's very over the top!"
Do you think Charity needs a man of her own? "It would be nice for her to fall in love and be normal, but you won't get that with Charity, she is quite good on her own. Perhaps it would be nice if she were paired with somebody really different."
What do you think of her pairing with Megan? "I think it is a brilliant dynamic. They are both headstrong women with opposing views and ideals. Megan is mainly morally upstanding, but Charity likes the fact that she is prepared to turn to the dark side."
Will you be pleased when Lucy Pargeter (who plays Chas Dingle) returns from maternity leave? "I miss the banter that Charity and Chas have so much; I can't wait for her to get back. I love the Marlon and Charity dynamic, too. She is so obnoxious and Marlon is so funny."
Emmerdale, ITV
Get the latest updates, reviews and unmissable series to watch and more!
Thank you for signing up to Whattowatch. You will receive a verification email shortly.
There was a problem. Please refresh the page and try again.