Mark Jordon: Daz Spencer grilled by the police and threatened by brother Dan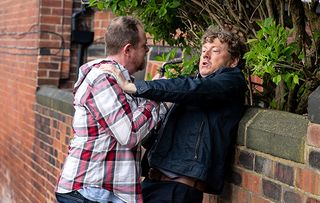 Emmerdale actor Mark Jordon reveals what happens when the police take Daz Spencer in for questioning over Amelia's disappearance…
Dan Spencer is used to being disappointed by his brother Daz, but nothing can quite prepare him for the shock of Daz being carted off to the police station after new evidence suggests he is linked to Amelia's disappearance…
What's the story?
Amelia Spencer has gone missing after the shock discovery that Daz and not Dan is her real dad. Where she has gone is a mystery, but is it possible that Daz could be to blame? 'Something that Daz was involved in way back has huge implications for this case,' Daz actor Mark Jordon tells Soaplife. And Dan is furious…
What's happening in Emmerdale? See the latest soap storylines
Emmerdale star Mark Jordon's interview with Soaplife about Daz Spencer's link to Amelia's disappearance…
Soaplife: So, why do the police come for Daz?
Mark Jordan: "We know that he was in a bit of a mess before he came to Emmerdale and we find out why he got himself into such a pickle. He's not quite the buffoon he makes out. He's a true survivor and quite street smart. The police are interested in something he did in his past, which they think might link him to Amelia's disappearance."
S: How does Dan react when he hears?
MJ: "Dan is already convinced that Daz is involved in Amelia's disappearance. He knows his form. There has been so much effort on Dan's partner Kerry's part to get the brothers to sort out their issues and this really sets them back. Dan is furious with Daz."
S: Has this put a strain on Daz's relationship with Bernice?
MJ: "No, Bernice has been a strong presence for him while this family has been in turmoil. She's a bit like Kerry. Daz and Dan are constantly at each other's throats, while the women are constantly trying to fix things behind the scenes."
S: What do you think of this storyline?
MJ: "There have been some really brilliant dramas on television that remind us how horrific anything to do with children is. It goes without saying that we want to pay as much respect as we can to the fact that these incidents do happen in real life. Nobody actually wants to experience something like this.
S: What's it like working with your girlfriend Laura Norton, who plays Kerry?
MJ: "There are lots of people who don't like working with a partner, but not me. It's the same as it was when I first came into the show. We have the same work vibe. We all talk and share ideas here at Emmerdale, so it's the same as it is with other colleagues, even though we are dating."
Emmerdale continues on ITV.
Get the What to Watch Newsletter
The latest updates, reviews and unmissable series to watch and more!