Emmerdale's Gillian Kearney explains why Emma snatches Noah: 'It's a bargaining tool'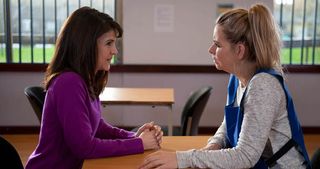 Emma turns kidnapper in Emmerdale to scare Moira and Cain and secure a desperate deal with Charity. But it could backfire, Gillian Kearney tells Soaplife…
Emma Barton is a worried woman. Noah's mum, Charity, will be out of prison soon and the nutty nurse fears she'll be banned from seeing her grandson Moses [Charity's son with Ross Barton]. Emma needs to do something – and starts by kidnapping Noah.
"It's not as bad as it sounds," Gillian says. "She stumbles on Noah walking along a country lane and she thinks on her feet."
But why does she think of snatching Noah?
"Emma's been worrying about the fact that Ross's name is not on Moses's birth certificate and she tries to get him to do something about it. When she finds Noah alone in the dark, she stops out of genuine concern for him. Then he says Charity told him to run away to get Moira [Natalie J Robb] in trouble and she hides him at the B&B."
Why not just take him home?
"She knows Cain [Jeff Hordley] and Moira will be feeling desperate and the situation gives her something on Charity for the future. She plans to use it as a bargaining tool."
Why does Emma think Ross (Michael Parr) should have custody of his son?
"She has faith in him. He's full of love and, although he's a bad boy sometimes, she believes he's going to be a good father. Emma's a good grandmother herself. She genuinely loves children and, in some ways, she's making up for not being around when her boys were little."
So, Emma goes to see Charity…
"Emma tries to blackmail her and she says Cain will never look at her if he finds out she told her little boy to run away in the dark and in the middle of winter."
What does Emma want from Charity?
"Rakesh [Pasha Bocarie] has forms for Ross to sign so he can have his name on Moses's birth certificate. Emma wants Charity [Emma Atkins] to allow that, but Charity's thinking one step ahead, too, and says she'll be calling in a favour from Emma. She then explains: 'I know you kidnapped a child'. Emma knows that can't come out as James [Bill Ward] already has the men in white coats on speed dial. She's terrified of Charity getting out of jail as she has no idea what she'll ask of her."
Who will win the battle between Emma and Charity?
"Emma never comes out on top. She only ever smiles for five minutes, then it all turns around on her…"
Emmerdale, ITV
Get the latest updates, reviews and unmissable series to watch and more!
Thank you for signing up to Whattowatch. You will receive a verification email shortly.
There was a problem. Please refresh the page and try again.