Emmerdale wedding day disaster: The latest news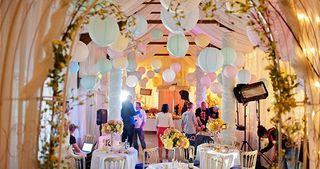 Has there ever been a soap wedding that has so much loaded against its success than the impending nuptials of Emmerdale's Debbie Dingle and Pete Barton? We don't think so!
Pete has been blissfully unaware that Debbie's been conducting a torrid romance with his brother, Ross, under his nose and it was only the revelation that Ross fathered Moses, the baby of her mum Charity, that moved Debbie to decide that Pete was the Barton for her. Hardly the romance of the decade.
The wedding is due to take place in Emmerdale next week, but a heartbroken Ross may have something to say about that. And what happened to the missing Dear John letter that Debbie wrote to Pete?
It's such a climactic storyline that we decided we had to go on location in Yorkshire to see how filming progressed. Check these behind the scenes photos...
Wedding of the century? Disaster of the decade more like!
But doesn't the village hall look lovely? Emmerdale's head of design Gillian Slight said: "We decided to make the colour scheme pale pastels with lots of draped white, diaphanous muslin and hundreds of hanging paper lanterns, so that when things suddenly go very wrong and disaster strikes, the resulting devastation is all the more poignant. The beautiful wedding is spectacularly trashed!"
Charley Webb (Debbie) was in the early stages of her second pregnancy when she filmed the wedding day scenes and had a stunt double for the big disaster. She wasn't the only one – her dress had five doubles.
Head of costume Sue Sheehan-Dare told us that 'because there is a disaster, we needed the dress in various stages so we have six of them. It is not only the dress – every one of the wedding guests has a copy of their outfit. And they are all fire proof!'
The skies were overcast on the day we visited and Charley clutched a hot water bottle in-between takes. "I always have a hot water bottle," says Charley who also donned a puffer coat and a pair of furry boots. "It's not so warm today and because it is supposed to be sunny on Debbie's wedding day, we've had to change some scenes and I've got to learn a new set of lines."
While tensions are running high throughout the village, cast and crew were all smiles in-between takes. "It's nice coming to work and being able to smile as Belle has been through so much in the past year," said Eden Taylor-Draper who plays her.
"I don't know how Belle will cope with everything that happens at the wedding, but I love it when the whole cast are together in the village. We get a chance to catch up with people we might not normally film with."
A touch up between takes. Charley is attended to while Anthony Quinlan (Pete Barton) looks.. pensive.
There's a lot of waiting around on set when big events are filmed. "We are doing a lot of bonding," said Joe Gill (Finn). "We chat a lot of nonsense, I've been helping Gillian with the crossword, but we got a clue wrong and it all went belly up. Best thing about today is Finn's suit. I have more compliments than I've ever had – I might casually walk off with it when we've finished filming!"
Anthony added: "I'm enjoying the camaraderie on set. There's a real buzz around the place today."
The younger cast members were out in force for Debbie and Pete's big day and had no end of adults to spoil them, play games and lend them their phones.
With the reception in full swing, Kelvin Fletcher, who plays Andy Sugden, took the opportunity to throw some shapes on the dance floor, much to the delight of Amelia Flanagan, who plays April.
"I'm really enjoying this," he told us. "Thankfully, Andy works out in the gym a lot and doesn't tire easily."
Photos © TV Times/Amy Brammall
Danny Miller (Aaron Livesy) couldn't resist having a go on the helter skelter that Pete orders as a surprise for Debbie on their wedding day. Loads of fun to be had, but did they enjoy filming the disaster scenes quite as much?
All the fun of the fair? Watch Emmerdale's summer trailer for a taste of what's to come!
http://www.youtube.com/watch?v=_WN4BA0cTtU
I've worked in the UK media industry for over 18 years as a multimedia producer. I have covered all the major TV events, filming interviews and awards.
Get the latest updates, reviews and unmissable series to watch and more!
Thank you for signing up to Whattowatch. You will receive a verification email shortly.
There was a problem. Please refresh the page and try again.