Emmerdale's Lucy: 'Debbie wants to kill Chas!'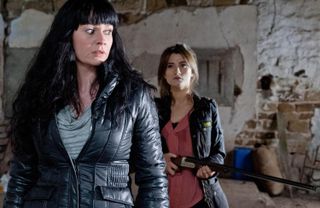 Lucy Pargeter reveals to Soaplife how Chas finds herself at gun-toting Debbie's mercy in Emmerdale (opens in new tab)…and Debbie's not feeling merciful!
Does Chas still feel guilty about taking Cameron from Debbie?
"She feels guilty about how it affected Debbie and Sarah and the family in general. But I think the guilt about her and Cameron being together has gone; they're quite a solid couple. She's getting to the stage where she's thinking enough is enough."
And then, suddenly, Debbie wants to make peace...
"She offers Chas a life to Zak and Lisa's house and Chas immediately thinks, 'Hold on, what's this about?' But then she decides that she's willing to give this a go if it means they can start trying to be friends again."
But what it really means is Debbie taking Chas hostage and holding her at gunpoint!
"Chas thinks Debbie has completely lost the plot. But at first she doesn't think she'll use the gun. She thinks Debbie is just scaring her. Then Chas realises Debbie is very close to pulling the trigger. She looks into Debbie's eyes and sees she's completely devoid of any emotion. Debbie's blank."
Then Cain and Charity find them...
"They turn up but, in Chas's eyes, things go from bad to worse – although I'm keeping back what actually happens. It does all have to come an end at some point, though - not that I'm saying that this is the absolute end!"
Get the latest updates, reviews and unmissable series to watch and more!
Thank you for signing up to Whattowatch. You will receive a verification email shortly.
There was a problem. Please refresh the page and try again.