'I don't know how Brenda could forgive Bob's betrayal,' reveals Emmerdale's Lesley Dunlop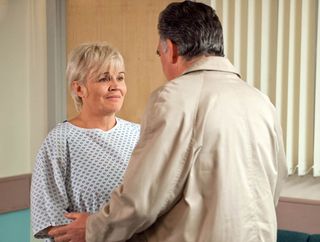 Emmerdale's Lesley Dunlop (opens in new tab) explains to Soaplife how and why Bob betrays Brenda so cruelly…
Brenda's worries start when her money for Gennie's memorial goes missing, right?
"Yes. She's highly suspicious of Carly [Gemma Atkinson (opens in new tab)] when it happens because she has conned Bob and Brenda out of money before. But Carly convinces Brenda that she must have forgotten where she put it. People keep saying, 'No it can't have gone, you must have put it somewhere', so Brenda thinks she's going bonkers."
And she thinks that's because her brain tumour has returned?
"When she was first diagnosed, Brenda was very forgetful and it feels as if the same is happening again. She finds the money in her apron pocket, even though she's absolutely positive it wasn't there when she looked for it."
So what's really happened with her money?
"Bob [Tony Audenshaw (opens in new tab)] has taken it, given it to Carly for repair work on the flooded shop she forgot to insure, and then taken out a payday loan to slip the money back to Brenda, although she doesn't know any of this. She doesn't know that Carly bought with Bob's bank fraud, either."
So Brenda's confused…
"And she's afraid that her tumour is back, but doesn't want to worry Bob with it right now. Chas [Lucy Pargeter (opens in new tab)] is Gennie's sister and Brenda doesn't know who else to turn to, so she asks Chas to go to the hospital with her. But Chas phones Bob, who turns up and tells Brenda that she should talk to him if she's worried. She's very pleased to see him while he's struggling with his guilt."
Bob does eventually confess all… Will Brenda forgive him?
"I think it would be difficult for her to come back from this. I don't understand how you would come to terms with such a betrayal. What makes it worse is that it was money for Gennie's memorial…"
Emmerdale (opens in new tab), ITV.
Get the latest updates, reviews and unmissable series to watch and more!
Thank you for signing up to Whattowatch. You will receive a verification email shortly.
There was a problem. Please refresh the page and try again.