Lisa Dingle is rushed to hospital after collapsing reveals Emmerdale's Jane Cox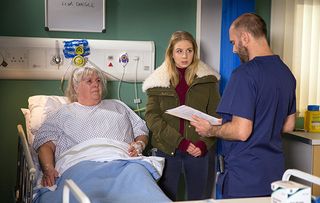 When Zak and Lisa Dingle have a row, Lisa collapses and it's Belle who calls the ambulance and goes with her to hospital. Emmerdale's Jane Cox explains all to Soaplife…
Liv Flaherty and Gabby Thomas are up in court for spiking Lisa Dingle's drink, but it's not making Lisa feel any better. She's been out of sorts since that night and following an argument with Zak after the case, she has another terrifying episode…
What's the story?
Zak argues with Lisa, not realising she is in pain. She shouts at him to go, then collapses. "She keels over," actress Jane Cox told Soaplife. "She thinks this is it. It's an angina attack and the doctor warns Lisa that she must avoid stress." So Lisa makes a decision on how to keep herself well… but what is it and how will her family react?
What's happening in Emmerdale? See the latest soap storylines
Jane Cox's interview with Soaplife about Lisa Dingle rushed to hospital after collapsing…
Soaplife: How has Lisa been since her heart attack?
JC: "She's exhausted and feels pretty bad. It takes a while to recover after a heart attack. She also feels quite down. The family aren't being as supportive as they could be and she's upset that Liv could do such a thing to her. She could have died."
S: What do the rest of the family think about Liv's crime?
JC: "Everyone apart from Belle fails to see the severity of the situation. When they thought it was Gabby, they believed she should go to prison, but when they found out it was Liv, they felt that Lisa shouldn't have dobbed her in. Even Zak isn't on Lisa's side."
S: How poor is Lisa's health?
JC: "She does have angina and when you have a heart attack, even if it is a minor one, it makes it more likely that you could have a major one and that could be fatal."
S: How does Lisa feel about Liv being up in court?
JC: "Liv is desperately upset about it and has been brave enough to admit what she did. Lisa wants to go to court and explain that Liv is a good girl really. However, Lisa isn't allowed to do that because they get a different lawyer who says that Lisa mustn't make a witness statement. Lisa wants Liv to learn a lesson, but nothing more."
S: Why does Lisa fall out with Zak?
JC: "On the way back from court, Zak turns on Lisa and is horrible to her because she phoned the police and reported Liv. He doesn't think she is fit to be a Dingle any more and says he can't bear to look at her. Lisa is heart broken, she goes and sits down and then she collapses."
S: Belle calls an ambulance and Lisa is rushed to hospital… what's the news?
"She is told it was an angina attack and the doctor explains that any more stress could be dangerous, so on the back of that, Lisa makes a decision. I won't tell you what it is, but it is the only one she feels she can make."
S: Can Lisa and Zak get through this together?
JC: "There is massive rift between them, so who knows? It's been really interesting for me as Zak and Lisa are usually on the same page about things."
Thank you for signing up to Whattowatch. You will receive a verification email shortly.
There was a problem. Please refresh the page and try again.