Nicola Wheeler reveals Nicola wants her own revenge on Rakesh for the Emmerdale fire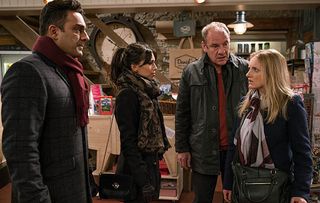 Nicola King is horrified when she finds out Rakesh Kotecha deliberately started the fire that could have killed her… and she gets her revenge, star Nicola Wheeler explains
Nicola King has no idea that the fire that injured her so horribly was started deliberately. But this fortnight she finds out Rakesh Kotecha was behind the blaze… and uses the knowledge to blackmail him.
"It's his wife Priya who gives the game away," actress Nicola Wheeler tells Soaplife. "Nicola decides to get her own back by demanding a job at the factory where she can continue to blackmail the whole family…"
How does Nicola find out the truth? "She has a few drinks, gets a bit fresh and thanks Neville the insurance guy for the pay out. Neville tells her that there wasn't a payout and her mind starts whirring."
So she asks Rakesh to solve the mystery? "She confronts Priya [Fiona Wade] and Rakesh [Pasha Bocarie] and tries to trip them up. Rakesh is a cool customer, but it's Priya's reaction that makes Nicola guess there is something dodgy. All night long she is thinking about it and Jimmy [Nick Miles] urges her to drop it, but she knows something is afoot. It's Ronnie Hale [John McArdle] who eventually reveals the truth and explains that Rakesh started the fire."
How does Nicola react? "She asks Ronnie if he will stand by what he said to the police and he agrees. She thinks about it and decides that she would rather get what she can out of it than see Rakesh rot in jail."
So why does she ask for a job at the sweet factory? "She finds out that the whole Sharma family knew Rakesh started the fire so they are all accessories to the crime. She has them over a barrel and would rather punish them all in a way that suits her. She knows she has power over them and starts by asking them to make Laurel Thomas [Charlotte Bellamy] supervisor."
Why would that help Nicola? "Nicola does it for Laurel, as she knows that she is under a lot of pressure. She makes Jai [Chris Bisson] give Laurel flexible working hours, so that she can cope with the demands of her family and husband Ashley's illness. She will also make the Sharmas do things to suit her, too."
What does she tell the girls on the factory floor? "She doesn't explain what she is doing, she makes out that she has been forced to work and says that it's a case of needs must."
How are Nicola and Jimmy getting on now? "Their relationship is good. They are back together and happy with the kids. He is relieved she has a new job because she was threatening to start working with him and going through the books and he was dreading her input!"
Emmerdale, ITV
Get the latest updates, reviews and unmissable series to watch and more!
Thank you for signing up to Whattowatch. You will receive a verification email shortly.
There was a problem. Please refresh the page and try again.