Pollard plays dirty to save home he shared with Val, says Chris Chittell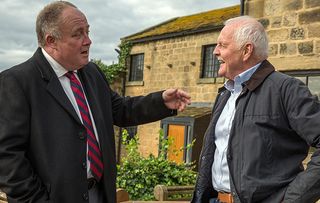 Eric Pollard finds out he could lose his home – so he makes sure the Dingles do, instead, Emmerdale's Chris Chittell tells Soaplife
Eric Pollard swaps a date with Faith Dingle for a game of golf with a pal from the council – and soon wishes he hadn't, Emmerdale's Chris Chittell tells Soaplife
What's the story?
Eric Pollard's ready for a date with Faith Dingle when his old council pal, Morris, gets in touch. Pollard drops Faith like a hot potato and he plays golf with Morris, thinking it may be to his advantage. "Pollard assumes Morris wants to ask him to be Mayor for a third time," Chris Chittell told Soaplife. But it's bad news! "There's a plan to build a golf course with the road running right through where his home is and Pollard's horrified." So he hatches a cunning plan…
What's happening in Emmerdale? See the latest soap storylines
Chris Chittell reveals all to Soaplife about Pollard...
Soaplife: And the first part of the plan involves trying to reason with Morris…
Chris Chittell: "Pollard has to. The road will remove the barn he shared with his late wife, Valerie, and he can't let that happen. He tries to appeal to Morris' better nature, but he doesn't have one! Morris is a sleazebag. He makes Pollard look like a princess!"
S: So what does he do next?
CC: "He offers Morris a bribe of £10,000, which he accepts. Pollard feels he has no choice. He knows someone else will have to suffer, but that's how it goes."
S: What will happen to the development?
CC: "Pollard finds out it's going to be built where Wishing Well stands. Although the Dingles are a bit of a nuisance, he feels torn because of Faith. However, on the other hand, the Dingles will get some money and a new house. Also, it's not as if this is the M1! It is only golf traffic."
S: Are you enjoying the scenes featuring Pollard's relationship with Faith?
CC: "It's wonderful. I loved working with Charlie Hardwick, who played Valerie. She was larger than life and what she lifted off the page was incredible. She kept me on my toes. Sally Dexter [Faith] is mad, innovative and a clever actor. She's also delightful."
S: Are you still in touch with Charlie?
CC: "Yes, I'm seeing her at a forthcoming party and I'm looking forward to it."
Emmerdale, ITV
Get the What to Watch Newsletter
The latest updates, reviews and unmissable series to watch and more!