Aaron testifies against his dad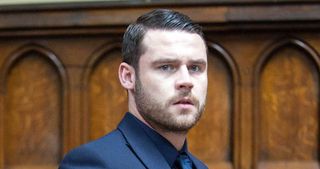 (Image credit: Andrew Boyce)
It's time for Gordon to go on trial. Although Aaron is desperate to see his dad pay for the years of abuse he inflicted on him as a child, it also means Aaron is going to have to talk about his painful past in front of his abusive dad, who glares at his son as he takes the stand. Facing questions from the prosecution and the defence, Aaron struggles. Worried for her son, Chas's stress levels rocket and, later, she risks the case by giving Gordon a mouthful when she runs into him outside the courtroom.
It's a big day for single mum Megan, too. She's organised Eliza's Christening on her own and is stressed to the max. Allowing Jai, Eliza's dad, to attend at the last minute, Megan doesn't handle it well when the ceremony starts to go awry. Can Harriet soothe the troubled mum's mind?
Having been told he's got cancer, David is terrified. Taking his dad along for moral support, David reels as he learns he's going to have to have a testicle removed.
Get the latest updates, reviews and unmissable series to watch and more!
Thank you for signing up to Whattowatch. You will receive a verification email shortly.
There was a problem. Please refresh the page and try again.