Adam demands Aidan tell Eva the truth!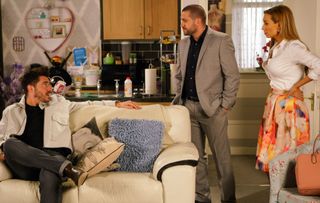 (Image credit: Mark Bruce)
Eva's heart in her mouth when Adam order Aidan to tell her the truth.
In order to raise some cash for the deposit on the flat, Aidan decides to sell his car. Eva feels guilty until Maria flashes him a wistful smile. Adam tries to blackmail Aidan over the photograph and when Aidan refuses to pay up, Adam orders him to tell Eva the truth. Eva stares at Aidan, her heart in her mouth - if she is 'told' about the affair her revenge is over.
David implores Shona to help him track down Lara, another of Nathan's victims, in a bid to help Bethany.
Having surveyed the new solicitors' offices, Phelan breaks the news to Adam that the electrics will set him back £4,000. Phelan blames himself for coming on too strong and scaring Nicola away. At work he has a go at Seb and tells him he is fired.
After spending the night with Cathy, Brian takes up his litter enforcement role and puts his megaphone to good use by berating Phelan for dropping a sweet wrapper.
Get the latest updates, reviews and unmissable series to watch and more!
Thank you for signing up to Whattowatch. You will receive a verification email shortly.
There was a problem. Please refresh the page and try again.