Alicia wakes up in Sam's bed!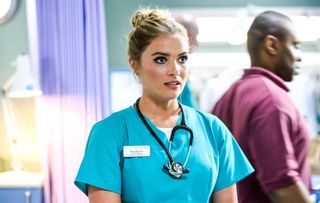 (Image credit: BBC)
Has the junior medic jeopardised her career?
Alicia is mortified when she wakes up in Sam Strachan's bed, after a heavy night's drinking. After all, he's not just another colleague – he's Holby City's Medical Director! And it seems Sam's not best pleased Alicia's in his bed… He tells her to get the bus even though he's starting work at the same time!
Flustered Alicia is late for her shift and gets a dressing down from Connie. And her bad day doesn't stop there… Sam announces there are going to be cost cutting redundancies in the ED and Alicia's convinced she's for the chop.
Morale is low in the ED, as everyone frets for their jobs, but Alicia still manages to spring into action when violent, knife wielding patient, Jeremy, attacks another patient called Susie. In order to save Susie, Alicia throws a fire extinguisher at her attacker. Not that Sam appreciates Alicia's heroics, as later he gives her a telling off!
Fed up of being admonished by Sam, Alicia confronts him at the end of the shift in the ED carpark. As Alicia sticks up for herself, bemused Sam makes a shock revelation – they didn't sleep together in the biblical sense. She simply fell asleep drunk in his bed after a wild night out! Will Alicia regret giving her boss a tongue lashing in front of their colleagues?
Also this week, as the shockwaves of job cuts sweep through the ED, people react in dramatically different ways. In a rare united front, Connie and Elle team up against common enemy Sam, and demand he reconsiders his cost-cutting proposals.
Meanwhile, Iain is pressurised into taking his little sister, Gem, out in the ambulance. He instantly regrets it – until his faces one of his worst fears when a snake gets into the ambulance! Unable to deal with it, Gem and Jez step in and save the day (and the exotic snake!), and brother and sister, Iain and Gem, grow closer.
Get the latest updates, reviews and unmissable series to watch and more!
Thank you for signing up to Whattowatch. You will receive a verification email shortly.
There was a problem. Please refresh the page and try again.