Are Andy and Chrissie caught in the act?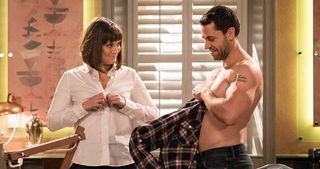 A hot and steamy session between Andy and Chrissie gets cut short when they hear Chrissie coming! Andy tries to get his clothes back on, but isn't fast enough. Will Bernice suss they're having an affair?
When Liv gets a text from Gordon she sneaks off to meet her dad, who manipulates his daughter into spying on Aaron in the hope she'll uncover something he can use against his son in court. Later, unnerved by Liv's questions, Robert tells Aaron he's suspicious of Liv, unaware she's recording their conversation!
Kerry can't wait to play an April's Fool's day prank on Dan – but she's horrified when she clocks Cain punching Dan, who then quits his job! Has Kerry's gag gone horribly wrong?
Belle's got the hots for older man Dr Bailey and tells Priya about it, being very selective with the truth. Unaware of the huge age gap between Belle and the guy, Priya encourages Belle to go on a date with him and have fun.
Moira's proud when Holly tells her mum how she got clean after relapsing into drugs. Recovering addict Holly vows to stay clean – but can she?
Get the latest updates, reviews and unmissable series to watch and more!
Thank you for signing up to Whattowatch. You will receive a verification email shortly.
There was a problem. Please refresh the page and try again.